Laboratory Experiments in College Physics, 7th Edition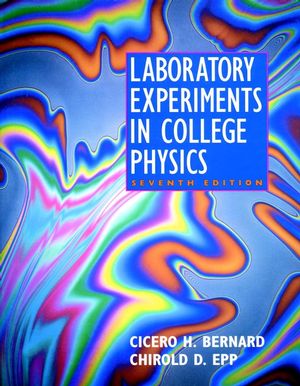 Laboratory Experiments in College Physics, 7th Edition
ISBN: 978-0-471-00251-2
Aug 1994
400 pages
Description
Provides a large selection of classical physics laboratory experiments whose subject matter coincides with most first-year college physics texts. All experiments can be performed with a wide variety of appartus and multiple procedures are given to accommodate several popular approaches. A number of experiments contain special error analysis procedures. Questions are designed to aid students in making more careful observations and to train them to analyze these observations as well as interpret their results. Forms to record the data and results are also included.
Partial table of contents:

MECHANICS.

Determination of Length, Mass, and Density.

Uniformly Accelerated Motion.

Moment of Inertia.

HEAT.

Linear Coefficient of Expansion of Metals.

Specific Heat and Temperature of a Hot Body.

Relative Humidity.

WAVE MOTION AND SOUND.

A Study of Vibration Strings.

Velocity of Sound in Air--Resonance Tube Method.

Velocity of Sound in Metal--Kundt's Tube Method.

ELECTRICITY AND MAGNETISM.

Mapping of Electric Fields.

The Heating Effects of an Electric Current.

Electromagnetic Induction.

LIGHT.

Reflection and Refraction of Light.

The Laser.

The Wavelength of Light.

NUCLEAR PHYSICS.

A Study in Scientific Investigation.

Statistics of Sample Measurement.

Properties of Radioactive Radiation.

Appendices.