Laboratory Manual for Anatomy and Physiology, 6th Edition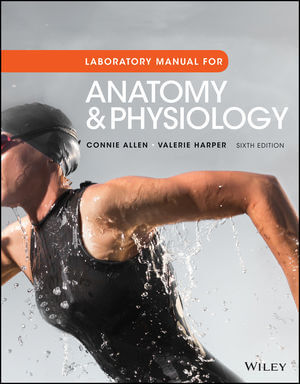 Laboratory Manual for Anatomy and Physiology, 6th Edition
ISBN: 978-1-119-32039-5
Nov 2016
Description
The Allen Laboratory Manual for Anatomy and Physiology, 6th Edition contains dynamic and applied activities and experiments that help students both visualize anatomical structures and understand complex physiological topics. Lab exercies are designed in a way that requires students to first apply information they learned and then critically evaluate it. With many different format options available, and powerful digital resources, it's easy to customize this laboratory manual to best fit your course.
Exercise 1 – Anatomical Language
Exercise 2 – Organ Systems and Body Cavities
Exercise 3 – Compound Light Microscope
Exercise 4 – Cell Structure and Function
Exercise 5 – Transport Across the Plasma Membrane
Exercise 6 – Tissues
Exercise 7 – Integumentary System Structure and Function
Exercise 8 – Bone Structure and Function
Exercise 9 – Axial Skeleton
Exercise 10 – Appendicular Skeleton
Exercise 11 – Joints and Synovial Joint Movements
Exercise 12 – Skeletal Muscle Structure
Exercise 13 – Contraction of Skeletal Muscle
Exercise 14 – Skeletal Muscles and Their Actions
Exercise 15 - Surface Anatomy
Exercise 16 – Nervous Tissue
Exercise 17 – Spinal Cord Structure and Function
Exercise 18 – Spinal Nerves
Exercise 19 – Somatic Reflexes
Exercise 20 – Brain Structure and Function
Exercise 21 – Cranial Nerves
Exercise 22 – Autonomic Nervous System Structure and Function
Exercise 23 – General Senses
Exercise 24 – Special Senses
Exercise 25 – Endocrine Structure and Function
Exercise 26 – Blood Components and Blood Tests
Exercise 27 – Heart Structure and Function
Exercise 28 – Cardiac Cycle
Exercise 29 – Blood Vessel Structure and Function
Exercise 30 – Blood Vessel Identification
Exercise 31 – Lymphatic System Structure and Immune System Function
Exercise 32 – Respiratory System Structure and Function
Exercise 33 – Pulmonary Ventilation
Exercise 34 – Digestive System Structure and Function
Exercise 35 – Chemical Digestion
Exercise 36 – Urinary System Structure and Function
Exercise 37 – Urine Formation and Urinalysis
Exercise 38 – Male Reproductive System Structure and Function
Exercise 39 – Female Reproductive System Structure and Function
Exercise 40 – Human Development
Exercise 41 – Heredity
If you're looking to customize your anatomy and physiology lab, the Laboratory Manual for Anatomy and Physiology, 6th Edition, coupled with the Wiley Engage platform, is for you! Through Engage, faculty can have the ultimate flexibility to customize their laboratory courses. You have control over everything—from adding your own laboratory material, to creating your own questions, to editing the digital textbook.
Using Wiley Engage, faculty have ultimate control over their customized lab course, so they can teach the course they want, the way they want. Here are just a few things faculty can do with Engage:
Customize by adding or deleting text, files and links.
Edit text within provided content and rearrange to better suit your course schedule.
Edit existing questions or batch upload your own.
Integrate with learning management systems such as Blackboard, Canvas and Desire 2 Learn.
Personalize by adding notes to pages.
Create shareable journals and portfolios.
Communicate with instructors, teaching assistants, students, and groups.