Laboratory Safety for Chemistry Students, 2nd Edition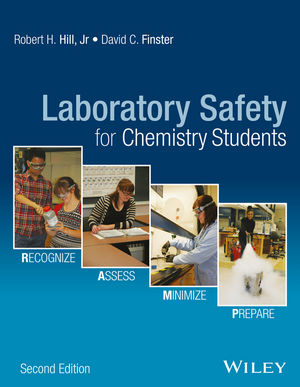 Laboratory Safety for Chemistry Students, 2nd Edition
ISBN: 978-1-119-02766-9
May 2016
576 pages
Description
Provides knowledge and models of good practice needed by students to work safely in the laboratory as they progress through four years of undergraduate laboratory work

Aligns with the revised safety instruction requirements from the ACS Committee on Professional Training 2015 "Guidelines and Evaluation Procedures for Bachelor's Degree Programs"
Provides a systematic approach to incorporating safety and health into the chemistry curriculum
Topics are divided into layers of progressively more advanced and appropriate safety issues so that some topics are covered 2-3 times, at increasing levels of depth
Develops a strong safety ethic by continuous reinforcement of safety; to recognize, assess, and manage laboratory hazards; and to plan for response to laboratory emergencies
Covers a thorough exposure to chemical health and safety so that students will have the proper education and training when they enter the workforce or graduate school
PREFACE: TO THE STUDENTS ix
TO THE INSTRUCTOR xi
ACKNOWLEDGMENTS xv
ACRONYMS xvii
CHAPTER 1 SAFETY CULTURE 1
1.1.1 THE FOUR PRINCIPLES OF SAFETY 3
1.1.2 WHAT IS GREEN CHEMISTRY? 13
1.2.1 RE-THINKING SAFETY: LEARNING FROM LABORATORY INCIDENTS 17
1.2.2 GREEN CHEMISTRY IN THE ORGANIC CURRICULUM 24
1.3.1 FOSTERING A SAFETY CULTURE 28
1.3.2 EMPLOYERS' EXPECTATIONS OF SAFETY SKILLS FOR NEW CHEMISTS 32
1.3.3 LAWS AND REGULATIONS PERTAINING TO SAFETY 39
1.3.4 GREEN CHEMISTRY: THE BIG PICTURE 47
1.3.5 SAFETY CONSIDERATIONS FOR CHEMISTRY DEMONSTRATIONS 53
1.3.6 THE TEACHING ASSISTANT'S ROLE IN LABORATORY SAFETY 60
CHAPTER 2 PREPARING FOR EMERGENCY RESPONSE 65
2.1.1 RESPONDING TO LABORATORY EMERGENCIES 67
2.1.2 FIRE EMERGENCIES IN INTRODUCTORY COURSES 72
2.1.3 CHEMICAL SPILLS: ON YOU AND IN THE LABORATORY 84
2.1.4 FIRST AID IN CHEMISTRY LABORATORIES 90
2.2.1 FIRE EMERGENCIES IN ORGANIC AND ADVANCED COURSES 96
2.2.2 CHEMICAL SPILLS: CAUSES AND PREVENTION 102
2.2.3 CHEMICAL SPILLS: CONTAINMENT AND CLEAN-UP 108
2.3.1 PREPARING FOR EMERGENCIES IN RESEARCH 114
CHAPTER 3 UNDERSTANDING AND COMMUNICATING LABORATORY HAZARDS 119
3.1.1 ROUTES OF EXPOSURES TO HAZARDS 121
3.1.2 LEARNING THE LANGUAGE OF SAFETY: SIGNS, SYMBOLS, AND LABELS 131
3.1.3 FINDING HAZARD INFORMATION: MATERIAL SAFETY DATA SHEETS, SAFETY DATA SHEETS, AND THE GHS 142
3.1.4 INFORMATION RESOURCES ABOUT LABORATORY HAZARDS AND SAFETY 149
3.1.5 INTERPRETING SDS INFORMATION 155
3.3.1 CHEMICAL HYGIENE PLANS 163
CHAPTER 4 RECOGNIZING LABORATORY HAZARDS: TOXIC SUBSTANCES AND BIOLOGICAL AGENTS 167
4.1.1 CONCEPTS IN TOXICOLOGY 169
4.1.2 MEASURING TOXICITY 179
4.1.3 ACUTE TOXICITY 185
4.2.1 CHRONIC TOXICITY 193
4.3.1 CARCINOGENS 201
4.3.2 BIOLOGICAL HAZARDS AND BLOODBORNE PATHOGENS 208
4.3.3 HAZARDS OF NANOMATERIALS 215
CHAPTER 5 RECOGNIZING LABORATORY HAZARDS: PHYSICAL HAZARDS 221
5.1.1 CORROSIVE HAZARDS IN INTRODUCTORY CHEMISTRY LABORATORIES 223
5.1.2 FLAMMABLES: CHEMICALS WITH BURNING PASSION 232
5.2.1 CORROSIVES IN ADVANCED LABORATORIES 241
5.2.2 THE CHEMISTRY OF FIRE AND EXPLOSIONS 249
5.2.3 INCOMPATIBLES: A CLASH OF VIOLENT PROPORTIONS 257
5.3.1 GAS CYLINDERS AND CRYOGENIC LIQUID TANKS 267
5.3.2 PEROXIDES: POTENTIALLY EXPLOSIVE HAZARDS 278
5.3.3 REACTIVE AND UNSTABLE LABORATORY CHEMICALS 287
5.3.4 HAZARDS FROM LOW OR HIGH PRESSURE SYSTEMS 298
5.3.5 ELECTRICAL HAZARDS 305
5.3.6 HOUSEKEEPING IN THE RESEARCH LABORATORY: THE DANGERS OF MESSY LABS 311
5.3.7 NON-IONIZING RADIATION AND ELECTRIC AND MAGNETIC FIELDS 319
5.3.8 AN ARRAY OF RAYS: IONIZING RADIATION HAZARDS IN THE LABORATORY 325
5.3.9 CRYOGENIC HAZARDS: A CHILLING EXPERIENCE 335
5.3.10 RUNAWAY REACTIONS 342
5.3.11 HAZARDS OF CATALYSTS 348
CHAPTER 6 RISK ASSESSMENT 353
6.1.1 RISK ASSESSMENT: LIVING SAFELY WITH HAZARDS 355
6.1.2 MANAGING RISK: MAKING DECISIONS ABOUT SAFETY 362
6.2.1 USING THE GHS TO EVALUATE CHEMICAL TOXIC HAZARDS 369
6.2.2 UNDERSTANDING OCCUPATIONAL EXPOSURE LIMITS (OEL) 381
6.3.1 ASSESSING CHEMICAL EXPOSURE 390
6.3.2 RISK ASSESSMENT FOR NEW EXPERIMENTS 397
CHAPTER 7 MINIMIZING THE RISKS FROM HAZARDS 403
7.1.1 LABORATORY EYE PROTECTION 405
7.1.2 PROTECTING YOUR SKIN: CLOTHES, GLOVES, AND TOOLS 411
7.1.3 CHEMICAL HOODS IN INTRODUCTORY LABORATORIES 418
7.2.1 MORE ABOUT EYE AND FACE PROTECTION 425
7.2.2 PROTECTING YOUR SKIN IN ADVANCED LABORATORIES 429
7.2.3 CONTAINMENT AND VENTILATION IN ADVANCED LABORATORIES 436
7.3.1 SAFETY MEASURES FOR COMMON LABORATORY OPERATIONS 446
7.3.2 RADIATION SAFETY 456
7.3.3 LASER SAFETY 462
7.3.4 BIOSAFETY LEVELS (BSLs) AND BIOLOGICAL SAFETY CABINETS 469
7.3.5 WORKING IN A HAZARDOUS ATMOSPHERE 479
7.3.6 SAFETY IN THE RESEARCH LABORATORY 484
7.3.7 PROCESS SAFETY FOR CHEMICAL OPERATIONS 490
CHAPTER 8 CHEMICAL MANAGEMENT: INSPECTIONS, STORAGE, WASTES, AND SECURITY 497
8.1.1 INTRODUCTION TO HANDLING CHEMICAL WASTES 499
8.2.1 STORING FLAMMABLE AND CORROSIVES 504
8.2.2 HANDLING HAZARDOUS LABORATORY WASTE 509
8.3.1 DOING YOUR OWN SAFETY INSPECTION 517
8.3.2 MANAGING CHEMICALS IN YOUR LABORATORY 522
8.3.3 CHEMICAL INVENTORIES AND STORAGE 526
8.3.4 CHEMICAL SECURITY 534
APPENDIX 539
INDEX 549
"This is a surprisingly engaging book for what can be a dry subject. This is achieved in no small part by the use of quotes ranging from Nobel winning chemists to Han Solo and the real world examples at the start of each chapter. This gives food for thought and grounds the theory giving it much needed context. This is vital for students who may not have encountered anything but a standard cookbook experiment before.
The RAMP system (recognise hazards, assess risks, minimise risks, prepare for emergencies) takes centre stage throughout giving a useful aide-memoire underpinning the diverse range of safety topics. No hazard that may be encountered in the lab is neglected. The book includes informative chapters on biological and radiation safety that broaden its appeal to all scientists as well as all aspects of chemistry.
The chemistry content in this book is by no means trivial; sidebars explore kinetics, thermodynamics and advanced organic chemistry. The detail and the contextual information require the application of chemical knowledge rather than simple lists of rules and regulations. This combined with the many questions provided would make it an ideal companion to most lab based courses. Indeed the information is broad enough and detailed enough for this to be a useful reference for professional practitioners of chemical safety. (Education in Chemistry, Jan 10th 2017) https://eic.rsc.org/review/laboratory-safety-for-chemistry-students-2nd-ed/2500228.article.