Labrador Retriever: Your Happy Healthy PetTM, with DVD, 2nd Edition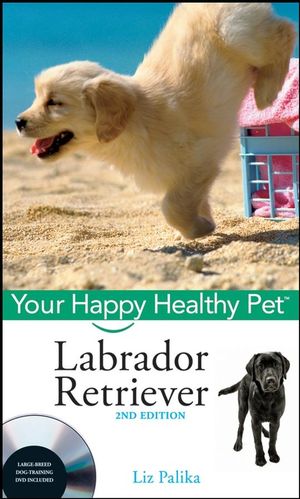 Labrador Retriever: Your Happy Healthy PetTM, with DVD, 2nd Edition
ISBN: 978-0-470-19230-6
May 2008
144 pages
Product not available for purchase
Description
Packed with full-color photographs, this fun and practical guide gives you everything you need to make your relationship with your Labrador Retriever even better. Inside, you'll find: Characteristics to look for when choosing a Lab; a list of supplies you'll need; advice on grooming, feeding, and training; a chart to keep track of important information. In addition, a bonus DVD shows you how to teach your furry friend basic commands and tricks, correct inappropriate behaviors, and understand her unique personality.
Part I: The World of the Labrador Retriever.
Chapter 1: What Is a Labrador Retriever?
The Sporting Breeds.
The Lab's Physical Appearance.
The Lab's Character.
Chapter 2: The Labrador Retriever Yesterday and Today.
The Lab in the USA.
The Lab Today.
Chapter 3: Why Choose a Labrador Retriever?
Are You Ready for a Dog?
The Lab as a Pet.
The Working and Field Lab.
If Labs Could Choose Their Owners.
Chapter 4: Choosing Your Labrador Retriever.
Breeder, Rescue, Shelter, or Free?
Choosing Your Lab.
Puppy Temperament Test.
Choosing an Adult Lab.
Part II: Caring for Your Labrador Retriever.
Chapter 5: Getting Ready for Your Labrador Retriever.
Basic Supplies.
Puppy Essentials.
Make Your Yard Safe.
When Your Dog First Comes Home.
Puppy-Proofing Your Home.
Pet Professionals.
Chapter 6: Feeding Your Labrador Retriever.
Feeding Your Dog.
Nutritional Building Blocks.
Reading Dog Food Labels.
Commercial Dog Foods.
Homemade Diets.
Seven Mistakes to Avoid.
Chapter 7: Grooming Your Labrador Retriever.
Brushing.
Bathing.
Other Details.
External Parasites.
Making Your Environment Flea Free.
Chapter 8: Keeping Your Labrador Retriever Healthy.
Preventive Health Care.
Problems That Affect the Lab.
Internal Parasites.
Emergency First Aid.
How to Make a Canine First-Aid Kit.
When to Call the Veterinarian.
As Your Lab Grows Older.
Part III: Enjoying Your Labrador Retriever.
Chapter 9: Training Your Labrador Retriever.
Understanding Builds the Bond.
Practical Commands for Family Pets.
Training for Attention.
Teaching Cooperation.
Chapter 10: Housetraining Your Labrador Retriever.
Your Housetraining Shopping List.
The First Day.
Confine Your Pup.
Watch Your Pup.
Accidents Happen.
Scheduling Basics.
Appendix: Learning More About Your Labrador Retriever.
Some Good Books.
Magazines.
Clubs and Registries.
On the Internet.
Index.
Getting Active with Your Labrador Retriever
This file requires Adobe Reader to view. If you do not have Adobe Reader installed, please visit Adobe's website to download.
Download
Your Lab and Your Family
This file requires Adobe Reader to view. If you do not have Adobe Reader installed, please visit Adobe's website to download.
Download
Additional Housetraining Schedules


You will need Adobe Reader to view this file. You can download Adobe Reader here.

Download