Lacrosse For Dummies, 2nd Edition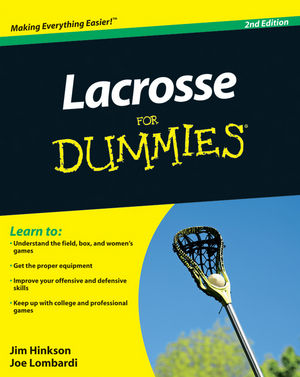 Lacrosse For Dummies, 2nd Edition
ISBN: 978-0-470-67740-7 March 2010 360 Pages
Description
Lacrosse For Dummies is the ultimate guide for fans and players of this rapidly growing sport alike. The book offers everything the beginning player needs to know, from the necessary equipment to the basic rules of the game, with explanations of the women's game and the indoor game, too. It also offers a wealth of information for the experienced player, including winning offensive and defensive strategies, along with skill-building exercises and drills. Finally, there's information on how armchair lacrosse players can get their fix of the sport on television, online, on in print.


Table of contents
Foreword.
Introduction.
Part I: Getting Started.
Chapter 1: Lacrosse and You.
Chapter 2: Suiting Up: Buying the Right Equipment.
Chapter 3: Meeting the Team.
Chapter 4: Laying Down the (Lacrosse) Law.
Part II: Playing Lacrosse.
Chapter 5: Getting the Ball into the Goal: Developing Offensive Skills.
Chapter 6: Putting the Ball in the Goal: Shooting Fundamentals.
Chapter 7: Keeping the Ball out of the Goal: Developing Defensive Skills.
Chapter 8: Goaltending.
Chapter 9: The Possession Game.
Chapter 10: Practicing Team Offense and Defense.
Chapter 11: Calling on the Special Forces: Specialty Teams.
Chapter 12: Becoming a Better Lacrosse Player — Physically and Mentally.
Part III: Coaching Lacrosse.
Chapter 13: Fundamentals of Coaching Lacrosse.
Chapter 14: Developing Your Coaching Philosophy for the Offense.
Chapter 15: Coaching Defensively.
Part IV: Following Lacrosse: The Fan's Point of View.
Chapter 16: How to Watch Lacrosse.
Chapter 17: Getting in the Game.
Chapter 18: Keeping Up with the Pros.
Part V: The Part of Tens.
Chapter 19: Ten of the Greatest Men's and Women's Lacrosse Players.
Chapter 20: Ten Reasons to Get Excited about Lacrosse.
Chapter 21: Ten Interesting Facts about Lacrosse.
Glossary.
Appendix: Resources.
Index.