Lady Jane Grey: A Tudor Mystery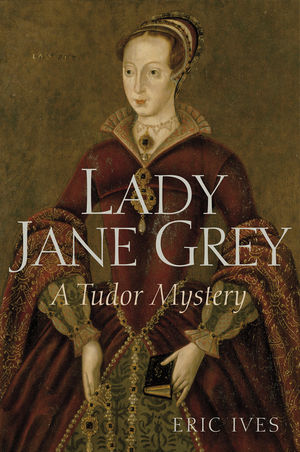 Lady Jane Grey: A Tudor Mystery
ISBN: 978-1-444-35426-3 September 2011 Wiley-Blackwell 392 Pages
Description
Lady Jane Grey, is one of the most elusive and tragic characters in English history.
In July 1553 the death of the childless Edward VI threw the Tudor dynasty into crisis. On Edward's instructions his cousin Jane Grey was proclaimed queen, only to be ousted 13 days later by his illegitimate half sister Mary and later beheaded. In this radical reassessment, Eric Ives rejects traditional portraits of Jane both as hapless victim of political intrigue or Protestant martyr. Instead he presents her as an accomplished young woman with a fierce personal integrity. The result is a compelling dissection by a master historian and storyteller of one of history's most shocking injustices.
Table of contents
List of Illustrations.
List of Figures.
Preface.
Titles and Offices.
Figures.
Map.
Prologue.
Part I The Scene.
1 The Year of Three Sovereigns.
2 In Search of Jane Grey.
3 Jane Grey in Context.
Part II The Protagonists.
Jane Grey.
4 A Damnable Inheritance.
5 Jane the Person.
6 Family Priorities.
7 A Godly Upbringing.
Mary Tudor.
8 Father and Daughter.
9 Sister and Brother.
John Dudley.
10 John Dudley: The Career.
11 John Dudley: The Black Legend.
12 John Dudley: Motives.
Edward.
13 The Young King.
14 'My Deuise for the Succession'.
15 King and Minister.
16 The Will of a King.
Part III Thirteen Days.
17 Preparations.
18 Jane the Queen.
19 The Council in London.
20 The March on Framlingham.
21 A Second Front.
22 The Rebellion of Mary Tudor.
Part IV Consequences.
23 Every Man for Himself.
24 The Tower.
25 Nemesis.
26 The River of Jordan.
27 Afterlife.
28 Envoi.
Notes.
Bibliographical Abbreviations.
Index.
Reviews
"Written in a scholarly fashion, with an abundance of family trees, maps and a list of titles and offices, this book is a factual, yet compelling, take on a much covered story. A fascinating tale, this will appeal to both scholars and general readers alike." (Family History Monthly, 1 April 2012)
"This is a thoroughly absorbing and ingenious book which will appeal to scholars and general readers alike." (History Today, June 2010)"This alone would make Ives' book an important piece of scholarship; that he wields an extensive array of archival evidence and provides the most detailed account to date of the succession crisis of 1553 makes this a book that no Tudor historian can ignore." (Journal of the Northern Renaissance, May 2010)
"Jane's claim had a good case behind it. Eric Ives ... adroitly makes it. Ives's skillful and enjoyable narrative stretches beyond the court into the regions, where the willingness or unwillingness of tenants or small freeholders to follow landlords into battle could help determine the occupant of the throne." (New York Review of Books, April 2010)
"Ives did a splendid job of showing that Anne Boleyn was not a pretty face but a serious political player. The chapter on Jane's imprisonment is particularly moving. The book is ... worth reading, [and] raises[s] important questions... .Ives' brave ... reading might help achieve a via media. Mary was not evil and Jane not a pawn. [Ives] successfully draw[s] our attention to the amazing fact that the protagonists here are women, both trying to do what no women had ever done before; become a monarch in her own right." (Times Literary Supplement, February 2010)
"This book is written for a reader steeped in English history, particularly the politics of Tudor England, and one who is interested in the fine details of historical truth. For an English History scholar, this book is ... a treasure. The research is meticulous." (Sacramento Book Review, November 2009)
"Ives re-assesses everything. He reconstructs the course of events with meticulous care, combining the conflicting narrative accounts with nuggets from the archives. He analyses the actions and character of each major participant and he comes to some surprising conclusions. His Mary is complex, brittle enough for her enemies to underestimate her, but stubborn enough to cling to her rights and let her dedicated entourage plan her counter-coup. Jane has inspired books, paintings, plays and films, but the mystery and the tragedy of 1553 have never before been so well captured." (BBC History Magazine, October 2009)
"Dr. Eric Ives, in this scholarly and page-turning account of the coup that brought Lady Jane Grey to the throne for a brief reign of nine days, provides the who, what, where, and why of a coup that on paper should have had every chance of succeeding but which ultimately failed. Refusing to rely on long accepted accounts of Lady Jane's story, Dr. Ives offers a reassessment of this episode in Tudor history to the extent that the reader realizes 'Jane, we hardly knew ye.'" (Right Book Blog, October 2009)
"Ives is not primarily concerned with Lady Jane's personal tragedy. Instead he focuses on the events that led to her being placed on the throne in July 1553, and the collapse of the regime 13 days later. The result is a major reinterpretation of this brief but exciting episode. Ives' ... mastery of his sources is unquestionable. Even if some of his conclusions are open to dispute ... the way Ives marshals his evidence is dazzling, and his bold and innovative treatment of a supposedly familiar story is both authoritative and exhilarating." (Spectator, October 2009)
"Turning traditional scholarship on its ear, Ives's radical reinterpretation is [a] masterfully researched, authoritative and ... seductive read." (Publishers Weekly)
"Ives works to present Lady Jane Grey as a learned, respected, and highly intelligent woman, providing in-depth analysis as he moves through the narrative and ending by summarizing the aftermath of the brief and tragic reign of one of Britain's least-known sovereigns. This thoroughly researched and engrossing historical analysis will appeal both to biography enthusiasts and to those interested specifically in Tudor history or the history of the monarchy. It is a masterly interpretation of the 'mystery' of Lady Jane Grey's ascent to the throne." (Library Journal)
Features
The first major study of the 1553 crisis, created after Edward VI's untimely death left the Tudor dynasty in turmoil

Presents a vivid portrait of Lady Jane Grey, one of the least studied figures of English history, depicting Jane as a forceful, educated individual

Subjects Jane's writings to an original literary and religious analysis

Demonstrates that Edward VI's will gave Jane and her supporters strong legal grounds for her claim to the throne

Offers a fresh assessment of other characters involved in the 1553 accession crisis: including Edward VI; Mary Tudor; and John Dudley, duke of Northumberland

Illuminates the inner workings of Tudor politics and the exercise of power in Early Modern England