Land Degradation in Mediterranean Environments of the World: Nature and Entent, Causes and Solutions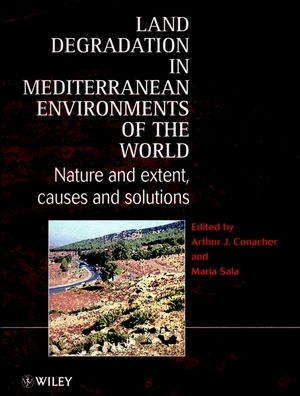 Land Degradation in Mediterranean Environments of the World: Nature and Entent, Causes and Solutions
ISBN: 978-0-471-96317-2
Jun 1998
520 pages
Description
Written by specialist and regional contributors, this invaluable book provides an integrated, up-to-date, geographical assessment of land degradation in the world's Mediterranean regions.

Land degradation is the alteration of the natural (or biophysical) environment by human actions, causing detrimental effects to the vegetation, soils, landforms, water and ecosystems. Part One of this book comprises a brief geography of the Mediterranean climate regions - the Mediterranean basin, California, central Chile, the Southwest Cape and Southern Australia, providing a context for Parts Two and Three. The second section discusses the nature, extent, history, causes and implications of land degradation in the regions. Major problems include soil, vegetation and water degradation, fire, drought, flooding and sedimentation. Historical and contemporary human responses to these problems are also considered and at times become part of the problem. Solutions - actual and potential - are evaluated in the third section and include those dealing with animals, cultivation, horticulture, engineering-type practices, agroforestry, whole farm planning, integrated catchment management and regional planning.

Throughout there is an emphasis on the distinctive nature of the Mediterranean-type environments - especially the seasonally, hot, dry climates, the species-rich and highly inflammable vegetation, steep topography and coastal orientations - and the ways in which these environments interact with human populations with their contrasting histories and cultures to result in a special set of environmental problems and response.
THE NATURE OF THE WORLD'S MEDITERRANEAN-TYPE ENVIRONMENTS

Iberian Peninsul and Balearic Islands

The South of France and Corsica

Italy

The Croatian Adriatic Coast

Greece

The Eastern Mediterranean

North Africa

Greater California

Chile

The Southwestern Cape of South Africa

Southern Australia

PROBLEMS OF LAND DEGRADATION

Introduction

The Main Problems of Land Degradation: Their Nature, Extent and Severity: 1. Erosion and Soil Deterioration, Flooding, Vegetation Loss and Degradation

The Main Problems of Land Degradation: Their Nature, Extent and Severity: 2. Drought, Water Shortages, and Water Quality, and other Forms of Degradation

The Historical Development of Land Degradation in the Mediterranean World

The Causes of Land Degradation 1. The Nature of the Biophysical Environment

The Causes of Land Degradation 2. Vegetation Clearing and Agricultural Practices

The Causes of Land Degradation 3. Other Human Actions

Some Broader Implications of Land Degradation

SOLUTIONS TO LAND DEGRADATION

Introduction

Solutions dealing with Animals, Cultivation and Horticultural Practices

Technical Solutions

Vegetation-Related Solutions

Economic, Social, Agency and Policy Solutions. 1. The Mediterranean Basin

Economic, Social, Agency and Policy Solutions 2. The New World

Summary and Conclusions
"... it is a valuable piece of work and we recommend it as a reference book for any institution's library." Environmental Conservation

"This is an impressive work of reference and will be much-used as debates about desertification and land degradation continue. There is much detail, mapping and compilation of statistical information. ... this is a splended item of co-operative scholarship and academic synthesis of a huge amount of information, which otherwise would be unavailable to students and development practitioners alike." Biodiversity and Conservation

".. this book is a valuable source of material and worth its place in university and college libraries." Progress in Physical Geography