Landing Page Optimization: The Definitive Guide to Testing and Tuning for Conversions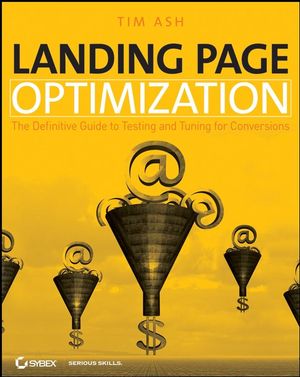 Landing Page Optimization: The Definitive Guide to Testing and Tuning for Conversions
ISBN: 978-0-470-28916-7
Apr 2008
360 pages
Product not available for purchase
Description
How much money are you losing because of poor landing page design? In this comprehensive, step-by-step guide, you'll learn all the skills necessary to dramatically improve your bottom line, including identifying mission critical parts of your website and their true economic value, defining important visitor classes and key conversion tasks,   gaining insight on customer decision-making, uncovering problems with your page and deciding which elements to test, developing an action plan, and avoiding common pitfalls. Includes a companion website and a detailed review of the Google Website Optimizer tool.
Introduction.
Part I: Background.
Chapter 1: Setting the Stage.
Chapter 2: Understanding Your Landing Pages.
Chapter 3: Understanding Your Audience.
Chapter 4: Understanding The Decision Process.
Part II: What and How to Tune.
Chapter 5: Why Your Site Is Not Perfect.
Chapter 6: Selecting Elements to Tune.
Chapter 7: The Math of Tuning.
Chapter 8: Tuning Methods.
Part III: Getting It Done.
Chapter 9: Assembling the Team and Getting Buy-in.
Chapter 10: Developing Your Action Plan.
Chapter 11: Avoiding the Pitfalls.
Appendix A: A Closer Look at the Google Website Optimizer.
Glossary.
Index.