Landscape Planning: Environmental Applications, 5th Edition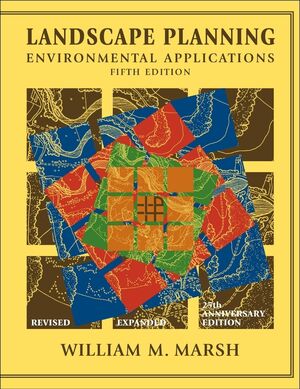 Landscape Planning: Environmental Applications, 5th Edition
ISBN: 978-0-470-94810-1 November 2010 528 Pages
Description
With its wide variety of topics and up-to-date coverage, Landscape Planning Fifth Edition is an excellent resource for students in a variety of disciplines including landscape planning, geography and environmental studies. It focuses on environmental problems associated with land planning, landscape design, and land use. New coverage is included on adaptive planning as an approach necessary to build a sustainable landscape. Greater emphasis is placed on systems and updated case studies are integrated throughout the chapters. This edition also arms the student with a collection of the best management practices, which can be applied in the field.
Table of contents
0. An Introduction to the Book, the Field, and some Perspectives.
1. Landscape Planning: Roots, Problems, and Content.
2. The Physiographic Framework of the United States and Canada.
3. Landscape Form and Function in Planning and Design.
4. Topography, Slopes, and Land Use Planning.
5. Assessing Soil for Land Use Planning and Waste Disposal.
6. Site, Soils, and Wastewater Disposal Systems.
7. Groundwater Systems, Land Use Planning, and Aquifer Protection.
8. Runoff and Stormwater Management in a Changing Landscape.
9. Watersheds, Drainage Nets, and Land Use Planning.
10. Streamflow, Floodplains, Flood Hazard, and Land Use Planning.
11. Water Quality and Runoff Considerations in Landscape Management.
12. Soil Erosion, Stream Sedimentation, and Landscape Management.
13. Best Management Practices, Local Watersheds, and Development Sites.
14. The Riparian Landscape: Streams, Channel Forms, and Valley Floors.
15. The Coastal Landscape: Shoreline Systems, Landforms, and Management Considerations.
16. Solar Climate near the Ground: Landscape and the Environment.
17. Microclimate, Climate Change, and the Urban Landscape.
18. Ground Frost, Permafrost, Land Use, and Environment.
19. Vegetation, Land Use, and Environmental Assessment.
20. Landscape Ecology, Land Use, and Habitat Conservation Planning.
21. Wetlands, Habitat, and Land Use Planning.
22. Framing the Land Use Plan: a Systems Approach.
New To This Edition
•      Now features adaptive planning and design in many chapters along with increased attention to sustainability and GIS applications.
•      Integrates updated case studies—plus 4 new case studies—throughout the chapters.
•      Includes a new chapter on System-Based Planning and places greater emphasis on systems to highlight how to create truly sustainable landscapes.
•        More than 75 new photographs and pieces of line art
•      Includes a new synthesising final chapter describing an approach to building framework plans for landscape design and land use
•      Offers a collection of best management practices, which can be applied in the field.
Reviews
"Marsh (U. of British Columbia and emeritus U. of Michigan) presents the 25th anniversary edition of his textbook and guide explaining how to deal reasonably with the land in the face of expanding land use and changing technology. Most readers will be in the early stages of their career, he suggests, and he hopes to establish some basic principles they can adapt and apply for a long time." (Book News Inc, November 2010)
What's New
•      Interdisciplinary treatment includes material from geography, landscape architecture, geomorphology, planning, ecology, landscape ecology, civil engineering and related fields.
•     Provides comprehensive coverage of the twenty essential areas of landscape/environmental planning.
•     Over 250 photos and illustrations. More than 200 of these are line graphics.
•     Concisely written chapters focus on the most important aspects of each topic.
•     Abundant, easy to read diagrams further communicate the message of each chapter.
•     Key words in margins facilitate reference to various topics.