Language, Bananas and Bonobos: Linguistic Problems, Puzzles and Polemics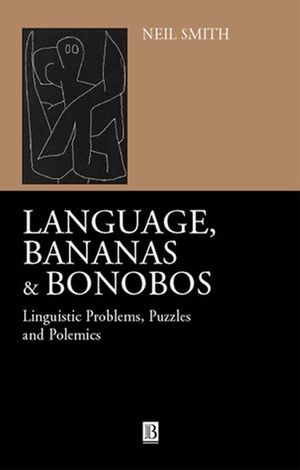 Language, Bananas and Bonobos: Linguistic Problems, Puzzles and Polemics
ISBN: 978-0-631-22872-1 January 2002 Wiley-Blackwell 160 Pages
Description
Language, Bananas, and Bonobos presents a series of engaging reflections on concerns such as our knowledge and use of language, political correctness, and the linguistic abilities of chimpanzees. In doing so, this volume provides new insights into linguistics that are of universal interest.
Table of contents
Preface.
Prelude:.
1. How to be the Center of the Universe.
Part I: Problems:.
2. Tadoma.
3. Putting a Banana in Your Ear.
4. A Fragment of Genius.
5. Colourful Language.
6. The Structure of Noise.
7. Dissociations.
Part II: Puzzles:.
8. Puzzle.
9. PC.
10. Acquired Whining.
11. Godshit.
12. The Golem.
13. $.
Part III: Polemics:.
14. Bonobos.
15. Whales, Sunflowers and the Evolution of Language.
16. Jackdaws, Sex and Language Acquisition.
17. Does Chomsky Exist?.
18. Relentless Jollity, Inexorable Logic and the Nature of Mind.
19. Structural Eccentricities.
20. The Velarity of Linguists.
Glossary.
References.
Index.
Reviews
"These sketches by Neil Smith's deft and expert hands provide a wonderful sampling of many and diverse paths of inquiry inspired by and informing the study of language, the unexpected delights one encounters on the way, the surprising and thought-provoking insights, and the puzzles, paradoxes and mysteries that offer a persistent challenge to understanding of essential elements of human nature." Noam Chomsky
,
Massachusetts Institute of Technology
"Neil Smith has not only a profound knowledge of current developments in linguistics but also a talent for explaining the issues clearly and approachably." John Wells FBA, University College London

"Smith is a thorough linguist with a sense of humor. Readers will find interesting linguistic ideas in small delicate amount enough to induce a linguistic quest for more revealing information. This book offers quick linguistic treats of fresh ideas and key findings in linguistics." Linguistische Berichte
Features


Written by one of the most senior figures in linguistics.


Provides a unique introduction to complex issues in language and linguistics.


Features humorous and accessible essays which appeal to both the expert and the general reader.


Includes a glossary of all technical terms and interpretations.