Language Alive 1 Teacher Support Book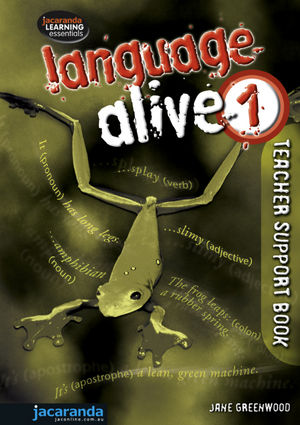 Language Alive 1 Teacher Support Book
ISBN: 978-0-731-40422-3
Nov 2006, Jacaranda
160 pages
Product not available for purchase
Description
The Language Alive 1 Teacher Support Book is designed to support the student workbook. In classrooms here students are not required to purchase the student workbook, teachers can use the teacher support book to photocopy to worksheets for students.
Features
All the photocopiable worksheets from the student book
Teacher notes on the worksheets
Answers
Extension material
Appendices with useful templates, such as student record sheets
The Language Alive series also includes student workbooks 2 and 3 and teacher support books 2 and 3.
The series is a useful complement to Jacaranda's English Alive series.
Note to students
Acknowledgements
TERM 1
Worksheet 1: Comprehension
Worksheet 2: Spelling
Worksheet 3: Spaces and stops (. ! ?)
Worksheet 4: Common nouns
Worksheet 5: Proper nouns
Worksheet 6: Simple verbs
Worksheet 7: Concrete and abstract nouns
Worksheet 8: Count nouns and mass nouns
Worksheet 9: Compound verbs
Worksheet 10: Collective nouns
Worksheet 11: REVISION QUEST, STAGE 1
TERM 2
Worksheet 12: Comprehension -- pictorial narrative
Worksheet 13: More spelling
Worksheet 14: The comma (,)
Worksheet 15: Direct speech
Worksheet 16: Subjective pronouns
Worksheet 17: Objective pronouns
Worksheet 18: Possessive pronouns
Worksheet 19: The verb 'to be'
Worksheet 20: Subjects and objects
Worksheet 21: Articles
Worksheet 22: REVISION QUEST, STAGE II
TERM 3
Worksheet 23: More spelling
Worksheet 24: Agreement
Worksheet 25: Adjectives
Worksheet 26: Adverbs
Worksheet 27: More on adjectives and adverbs
Worksheet 28: Tenses of verbs
Worksheet 29: Homophones
Worksheet 30: Business letters
Worksheet 31: Procedural texts
Worksheet 32: Reports
Worksheet 33: REVISION QUEST, STAGE III
TERM 4
Worksheet 34: More on spelling
Worksheet 35: The colon (:) and the semicolon (;)
Worksheet 36: More on spelling
Worksheet 37: Using the apostrophe (')
Worksheet 38: And more on spelling!
Worksheet 39: Phrase building using possessive adjectives
Worksheet 40: Voice: active and passive
Worksheet 41: Exposition
Worksheet 42: Direct and indirect speech
Worksheet 43: Focus on monologues
Worksheet 44: REVISION QUEST, STAGE IV
Appendices
¿¿