Language Alive 2 Teacher Support Book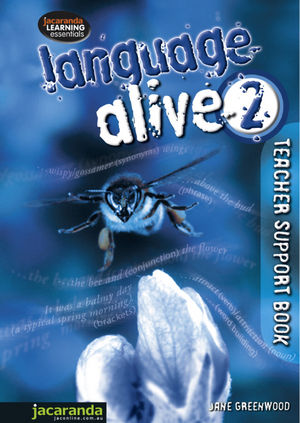 Language Alive 2 Teacher Support Book
ISBN: 978-0-731-40435-3
Feb 2007, Jacaranda
206 pages
Product not available for purchase
Description
The Language Alive 2 Teacher Support Book is designed to support the student workbook. In classrooms here students are not required to purchase the student workbook, teachers can use the teacher support book to photocopy to worksheets for students.
Features
All the photocopiable worksheets from the student book
Teacher notes on the worksheets
Answers
Extension material
Appendices with useful templates, such as student record sheets
The Language Alive series also includes student workbooks 1 and 3 and teacher support books 1 and 3.
The series is a useful complement to Jacaranda's English Alive series.
Worksheets
Term 1
Comprehension: narrative
Spelling 1: the consonants f,g and j
Prepositions
Verbs: aspect
Prepositional phrases
Noun phrases
Adjectival phrases
Adverbial phrases
Word building 1
Comprehension: verse narrative
Revision voyage (I)
Term 2
Comprehension: pictorial narratives
Spelling 2: the letters k and s
Punctuation 1: brackets and dashes
Greek and Latin roots
Finite verbs
Coordinating conjunctions
Main clauses
Simple and compound sentences
Subordinate clauses
Adverbial clauses of time and place
Revision voyage (II)
Term 3
Comprehension: transactions
Spelling 3: sh, z, c, and g
Spelling 4: tricky plurals
Punctuation 2: the dash and the hyphen
Word building 2: prefixes
Word building 3: suffixes
Word building 4: synonyms and antonyms
Adverbial clauses of degree and manner
Adverbial clauses of reason, purpose and result
Adverbial clauses of condition and concession
Revision voyage (III)
Term 4
Comprehension: reports
Spelling 5: silent letters
Spelling 6: confusing words
Transitive and intransitive verbs
Adjectival clauses and relative pronouns
Complements
Sentence types
Complex sentences
Playing with words
Formal and informal language
Revision voyage (IV)
Extension Exercises
Appendices
Certificate of Completion
My spelling demons
Grammar terms
Punctuation guide
Quick troubleshooting guide
Reading log
Learning strengths quiz
Multiple intelligences matrix
Student observation record
Student record sheets, terms 1 to 4