Language Alive 3 Student Workbook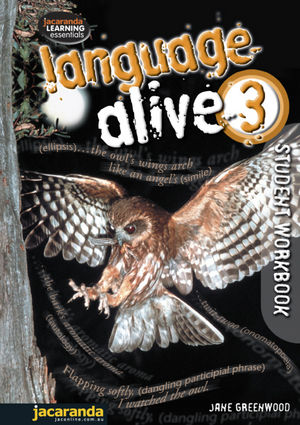 Language Alive 3 Student Workbook
ISBN: 978-0-731-40438-4
Jun 2007, Jacaranda
144 pages
Product not available for purchase
Description
Language Alive is a three-book workbook series designed to boost student understanding of grammar and language structures. It may be used as an in-class text or as part of a homework program. It is a useful complement to Jacaranda's English Alive series. Each workbook is supplemented by a separate teacher support book that contains the worksheets in a photocopiable version, teacher notes with answers and extension material. Teachers have the option of purchasing the teacher support book and photocopying the worksheets for student use or having students purchase the separate workbook themselves.
Features
Wide coverage of grammar and language topics including comprehension, spelling, punctuation, parts of speech, linguistic structures, fi gures of speech and some text types
Logical arrangement of worksheets within each term to build acquisition of skills/knowledge
Use of cartoon characters to engage students and help in the presentation of content
A marking system for all activities, with provision for teacher feedback (worksheets are perforated to allow them to be handed in)
A content that is underpinned by educational pedagogy (e.g. the Four Resources Model for reading)
A certificate, filled out by the teacher when all worksheets have been satisfactorily completed, to chart student progress.
Both the worksheets and teacher support material have been prepared by Jane Greenwood, an experienced author with many years experience in teaching English at all levels. Her other writing credits include short stories, the language activities in the Macquarie School Dictionary and the language text Write Stuff.
.
TERM 1
Worksheet 1 - Comprehension 1: nouns, pronouns and verbs in narrative text
Worksheet 2 - Spelling 1: silent consonants
Worksheet 3 - Punctuation 1: full stops, question marks, exclamation marks
Worksheet 4 - Nouns
Worksheet 5 - Verbs, subjects, objects and complements
Worksheet 6 - Personal pronouns
Worksheet 7 - More on verbs: tense, aspect, voice and mood
Worksheet 8 - Adjectives and adverbs
Worksheet 9 - Auxiliary verbs
Worksheet 10- Comprehension 2: making meaning in narrative text
Worksheet 11- Revision holiday 1
TERM 2
Worksheet 12- Comprehension 3: comic narrative
Worksheet 13- Spelling 2: more silent consonants
Worksheet 14- Punctuation 2: commas, semicolons, colons
Worksheet 15- Prepositions
Worksheet 16- Phrases
Worksheet 17- Derivation: Greek and Latin roots and prefixes
Worksheet 18- Main clauses, simple and compound sentences
Worksheet 19- Subordinate clauses and complex sentences
Worksheet 20- Adjectival clauses
Worksheet 21- Spelling 3: 'demon' words
Worksheet 22- Revision holiday 2
TERM 3
Worksheet 23- Comprehension 4: reading narratives
Worksheet 24- Word order and sentence building 1
Worksheet 25- Noun clauses as subjects, as complements and in apposition
Worksheet 26- Noun clauses as objects
Worksheet 27- Word order and sentence building 2
Worksheet 28- Word order and sentence building 3
Worksheet 29- Verbs: modality
Worksheet 30- Reflexive verbs and pronouns
Worksheet 31- Non-finite verb forms: infinitives
Worksheet 32- Non-finite verb forms: participles and gerunds
Worksheet 33- Revision holiday 3
TERM 4
Worksheet 34- Comprehension 5: pictorial narrative
Worksheet 35- Punctuation 3: apostrophes and quotation marks
Worksheet 36- Ellipses
Worksheet 37- Comprehension 6: coherence and cohesion in narrative texts
Worksheet 38- Comprehension 7: coherence and cohesion in expository texts
Worksheet 39- Sentence fragments
Worksheet 40- Sentence variety 1: length
Worksheet 41- Sentence variety 2: beginnings
Worksheet 42- Paragraphs
Worksheet 43- Inclusive language
Worksheet 44- Revision holiday 4