Language Alive 3 Teacher Support Book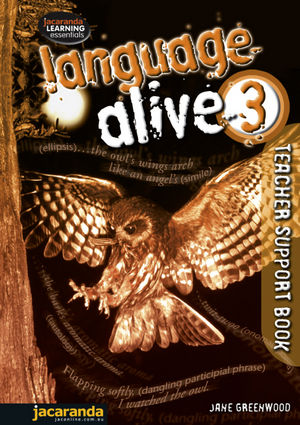 Language Alive 3 Teacher Support Book
ISBN: 978-0-731-40437-7
Jun 2007, Jacaranda
208 pages
Product not available for purchase
Description
Language Alive 3 Teacher Support Book is designed to support the student workbook. In classrooms where students are not required to purchase the student workbook, teachers can use the teacher support book to photocopy the worksheets for students.
Features
All the photocopiable worksheets from the student book
Teacher notes on the worksheets
Answers
Extension material
Appendices with useful templates, such as student record sheets
The Language Alive series also includes student workbooks 1 and 2 and teacher support books 1 and 2.
The series is a useful complement to Jacaranda's English Alive series.
TERM 1
Worksheet 1 - Comprehension 1: nouns, pronouns and verbs in narrative text
Worksheet 2 - Spelling 1: silent consonants
Worksheet 3 - Punctuation 1: full stops, question marks, exclamation marks
Worksheet 4 - Nouns
Worksheet 5 - Verbs, subjects, objects and complements
Worksheet 6 - Personal pronouns
Worksheet 7 - More on verbs: tense, aspect, voice and mood
Worksheet 8 - Adjectives and adverbs
Worksheet 9 - Auxiliary verbs
Worksheet 10- Comprehension 2: making meaning in narrative text
Worksheet 11- Revision holiday 1
TERM 2
Worksheet 12- Comprehension 3: comic narrative
Worksheet 13- Spelling 2: more silent consonants
Worksheet 14- Punctuation 2: commas, semicolons, colons
Worksheet 15- Prepositions
Worksheet 16- Phrases
Worksheet 17- Derivation: Greek and Latin roots and prefixes
Worksheet 18- Main clauses, simple and compound sentences
Worksheet 19- Subordinate clauses and complex sentences
Worksheet 20- Adjectival clauses
Worksheet 21- Spelling 3: 'demon' words
Worksheet 22- Revision holiday 2
TERM 3
Worksheet 23- Comprehension 4: reading narratives
Worksheet 24- Word order and sentence building 1
Worksheet 25- Noun clauses as subjects, as complements and in apposition
Worksheet 26- Noun clauses as objects
Worksheet 27- Word order and sentence building 2
Worksheet 28- Word order and sentence building 3
Worksheet 29- Verbs: modality
Worksheet 30- Reflexive verbs and pronouns
Worksheet 31- Non-finite verb forms: infinitives
Worksheet 32- Non-finite verb forms: participles and gerunds
Worksheet 33- Revision holiday 3
TERM 4
Worksheet 34- Comprehension 5: pictorial narrative
Worksheet 35- Punctuation 3: apostrophes and quotation marks
Worksheet 36- Ellipses
Worksheet 37- Comprehension 6: coherence and cohesion in narrative texts
Worksheet 38- Comprehension 7: coherence and cohesion in expository texts
Worksheet 39- Sentence fragments
Worksheet 40- Sentence variety 1: length
Worksheet 41- Sentence variety 2: beginnings
Worksheet 42- Paragraphs
Worksheet 43- Inclusive language
Worksheet 44- Revision holiday 4