Language Arts Learning Centers for the Primary Grades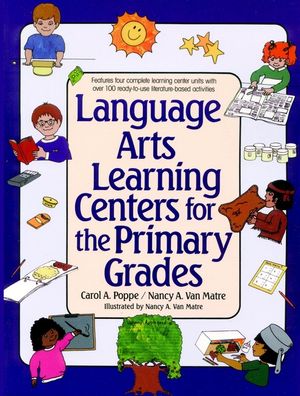 Language Arts Learning Centers for the Primary Grades
ISBN: 978-0-876-28505-3
Apr 1991, Jossey-Bass
252 pages
Description
Want to make the most of learning centers but not sure how? Let this outstanding resource be your guide. It features four complete language arts learning center units, based on popular children's books, that will fit into virtually any curriculum. The units include Dr. Seuss and His Friends, Bears, Dogs, and American Tall Tales and Legends, and can be used in any order. Each unit comes with an illustrated bulletin board activity, a letter to parents explaining the learning center activities and suggesting home enrichment ideas, a group activity for the entire class, and "take off" suggestions that serve as springboards for extended activities across other content areas. This unique handbook provides over 100 reproducible whole language activities that will improve students' skills in listening, speaking, reading, writing, spelling, math, and art. Children will get a variety of opportunities for acquiring new knowledge, as well as practicing previously learned concepts. Primary teachers and resource-room and special education teachers will find detailed directions for using a learning center system-from introducing, setting up, managing, and evaluating learning centers as part of the regular classroom program.
About This Book.

To the Teacher.

MANAGMENT.

How to Manage a Learning Center System.

Advantages of Using Learning Centers.

How to Make a Color Wheel Featuring Four Reading Groups.

How to Set Up the Classroom into Four Areas.

How to Assign Desks.

How to Make a Desk Divider.

How to Keep Track of Each Child at Learning Centers.

How to Evaluate the Learning Center Activities.

How to Introduce a New Set of Learning Centers to the Entire Class.

How to Explain Learning Centers to Parents.

LANGUAGE ARTS LEARNING CENTERS.

Dr. Seuss and His Friends.

Bears.

Dogs.

American Tall Tales and Legends.

BIBLIOGRAPHY.

ENJOYING LANGUAGE ARTS.

Reinforcement During School.

Reinforcement of Skills at Home.

Reinforement Activities for the Home.

Recruiting Help.