Language and Gender, 2nd Edition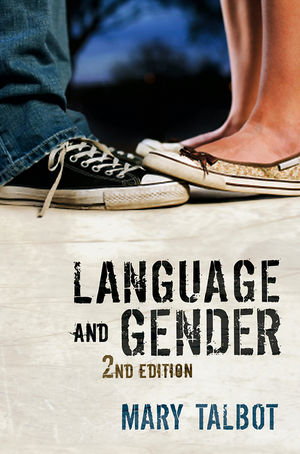 Language and Gender, 2nd Edition
ISBN: 978-0-745-64605-3 June 2010 Polity 272 Pages
Download Product Flyer
Download Product Flyer
Download Product Flyer is to download PDF in new tab. This is a dummy description. Download Product Flyer is to download PDF in new tab. This is a dummy description. Download Product Flyer is to download PDF in new tab. This is a dummy description. Download Product Flyer is to download PDF in new tab. This is a dummy description.
Description
This new edition of
Language and Gender
has been thoroughly revised and updated, including the addition of entirely new chapters that explore recent work in the field. A range of approaches is covered at an introductory level, presenting sometimes difficult and complex issues in an understandable way. Every chapter concludes with a list of recommended readings so that each topic can be taken further. Like the first edition, it will be popular with students for its accessibility and with teachers for the range and depth it achieves in a single volume.
As in the first edition, the book is organised into three parts. An introductory section provides preliminary grounding in early 'classic' studies in the field. In the second section, Talbot examines the language used by women and men in a variety of speech situation and genres. She addresses a range of issues and problems, including the difficulties arising from accounting for gender differences in terms of dichotomies like public vs private and informational vs affective and, not least, the trouble with looking for 'differences' at all.
Talbot's emphasis, however, is on recent research. The last and largest section examines not gender difference but the construction and performance of gender in discourse. It includes new chapters outlining recent research on women's talk in public contexts and on language, gender and sexualities. The section as a whole reflects both the high degree of interest in mass media and popular culture found in recent language and gender research and the preoccupation with discourse and social change that is central to Critical Discourse Analysis.
The second edition of Language and Gender will become a key textbook for undergraduates and postgraduates in linguistics, sociolinguistics, cultural and media studies, gender studies and communication studies. The book is usable by students for whom it their first, or only, contact with sociolinguistics.
Table of contents
List of figures and tables.
Acknowledgements.
Transcription Conventions.
Part I Preliminaries: Airing Stereotypes and Early Models.
1 Language and gender.
About this book.
Linguistic sex differentiation.
Sex versus gender.
Sex and gender as troublesome dichotomies.
Why is language study important for feminism?
Further reading.
2 Talking proper.
Women, men and 'Standard' English.
Sex, gender and voice quality.
Further reading.
3 Women's language' and 'man made language'.
Early interest.
'Women's language'.
'Man made language'.
Conclusion and lead-in to part II.
Further reading.
Part II Interaction among Women and Men.
4 Telling stories.
Studying stories.
Story content.
A couple tell a story.
At the family dinner-table.
Generalizing from research findings.
Further reading.
5 Conversation.
Conversation as a genre.
The conversational division of labour.
Miscommunication.
Politeness.
Men's and women's interactional styles.
Equal but different?
Further reading.
6 Difference-and-dominance and beyond.
Deficit, dominance and difference.
The trouble with 'dominance'.
The trouble with 'difference'.
Beyond difference: the influence of poststructuralism.
Further reading.
Part III Discourse and Gender: Construction and Performance.
7 Critical perspectives on gender identity.
Why critical?
Discourse and discourses.
Gender identity and subject positioning.
The discursive construction of maternity.
Examining constructions of gender identity.
Further reading.
8 Consumerism.
Femininity.
Women and consumerism.
Multiple voices in magazines.
The voice of a friend.
Men as consumers.
Further reading.
9 New men and old boys.
Masculinities.
Dominance and control.
The importance of being hetero.
Change and resistance.
Further reading.
10 Public talk.
Women and the public sphere.
Politics.
Broadcast interviews.
Women in charge: dealing with the doublebind.
Media representations of working women.
Further reading.
11 Language, gender and sexuality.
Queering gender.
Heteronorms.
Homosociality among male university students.
The sexual politics of consent.
Resisting heteronormative identities.
Further reading.
12 Reclaiming the language.
Modes of struggle.
Resistance and Contestation.
Struggles over access.
Interventions.
Counter-resistance.
The media.
Academia.
What is 'political correctness'?
Further reading.
Reviews
"Without doubt the book will serve as an excellent textbook for upper undergraduate and postgraduate
students."
Discourse Studies
"The book is engagingly written and remains a key textbook for students and junior researchers in the field."
Discourse and Communication
"The author moves smoothly and coherently from more traditional approaches to language and gender through to very recent research in areas such as discourse and consumerism, and language, gender and sexuality. Different approaches, including Critical Discourse Analysis and social constructionism, are demonstrated, and difficult concepts are clearly and comprehensibly presented. Mary Talbot's own research enriches and enlivens the discussion throughout. The text is extensively illustrated with interesting examples, many of which are taken from recent published research, thus introducing students to relevant and authentic material."
Janet Holmes, Victoria University of Wellington
"Mary Talbot's book provides a comprehensive, theoretically-sophisticated and accessible introduction to the field of language and gender. Unlike other language and gender textbooks, Talbot foregrounds the importance of language and gender studies to the analysis of popular culture and mass media 'texts.' Thus, Talbot's book will appeal not only to students and scholars of linguistics, but to anyone with a serious interest in cultural studies."
Susan Ehrlich, York University
"This new edition of an indispensable textbook provides a clear and engaging overview of foundational research and current trends in the interdisciplinary study of language, gender, and sexuality. Theoretically informed and empirically grounded, this text will serve as an essential guide for new generations of students. It is also a valuable resource for researchers seeking to update themselves on recent developments in this dynamic field."
Mary Bucholtz, University of California
Features
• Fully revised and updated edition of this classic introduction to language and gender.
• Includes two fully new chapters on women's talk in public contexts and on language, gender and sexualities.
• Presents a well-balanced overview both of foundational studies in the field and the very latest research.
• Will continue to be popular with both students and teachers for its presentation of difficult and complex issues in an understandable way.