Language and Gender: A Reader, 2nd Edition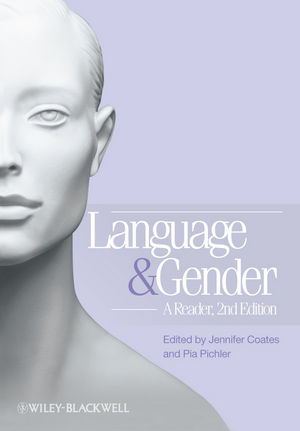 Language and Gender: A Reader, 2nd Edition
ISBN: 978-1-405-19144-9
Mar 2011, Wiley-Blackwell
640 pages
Description
The new edition of Language and Gender: A Reader responds to the wealth of research that has shaped the field since its initial publication in 1998. Retaining many of the foundational entries that have made the volume so popular, the second edition has been fully revised, and now includes 23 new articles and two entirely new sections.
A fully revised new edition of this popular Reader which explores the widening range of language and gender research, both geographically and socially, along with changing theoretical and methodological approaches
Combines the very latest research with classic works that established the field
Features 23 new articles spanning 1997-2009 and two new sections on   language, gender and sexuality, and the relevance of gender in the analysis of spoken interaction
Draws on research from all over the world, including Brazil, China, and Japan, as well as North America and Europe
Discusses a wide range of topics including single and mixed-sex talk; language, gender and power; gendered talk in the public domain; and language, gender and sexuality.
Includes accessible introductions to each section, which contextualize each entry
Editors' Note.
Transcription Conventions 1.
Transcription Conventions 2.
Sources.
Introduction.
Part I Gender Differences in Pronunciation and Grammar.
1 Yanyuwa: "Men speak one way, women speak another" (John Bradley).
2 Sex and Covert Prestige (Peter Trudgill).
3 Linguistic Variation and Social Function (Jenny Cheshire).
4 Girl-talk/Boy-talk: Sex Differences in Adolescent Speech (Edina Eisikovits).
5 Black Women in the Rural South: Conservative and Innovative (Patricia C. Nichols).
6 Gender and Sociolinguistic Variation (Penelope Eckert).
Part II Gender and Conversational Practice.
7 Complimenting – A Positive Politeness Strategy (Janet Holmes).
8 Cooperation and Competition Across Girls' Play Activities (Marjorie Harness Goodwin).
9 Expressions of Gender: An Analysis of Pupils' Gendered Discourse Styles in Small Group Classroom Discussions (Julia Davies).
10 Gender and the Use of Exclamation Points in Computer-Mediated Communication: An Analysis of Exclamations Posted to Two Electronic Discussion Lists (Carol Waseleski).
Part III Gender, Power, and Dominance in Mixed Talk.
11 Women's Place in Everyday Talk: Reflections on Parent–Child Interaction (Candace West and Don H. Zimmerman).
12 The Sounds of Silence: How Men Silence Women in Marital Relations (Victoria Leto DeFrancisco).
13 Talk Control: An Illustration from the Classroom of Problems in Analysing Male Dominance of Conversation (Joan Swann).
14 Participation in Electronic Discourse in a "Feminist" Field (Susan C. Herring, Deborah A. Johnson and Tamra DiBenedetto).
15 Zuiqian "Deficient Mouth": Discourse, Gender and Domestic Violence in Urban China (Jie Yang).
Part IV Same-Sex Talk.
16 Gossip Revisited: Language in All-Female Groups (Jennifer Coates).
17 "Why Be Normal?": Language and Identity Practices in a Community of Nerd Girls (Mary Bucholtz).
18 Hybrid or In Between Cultures: Traditions of Marriage in a Group of British Bangladeshi Girls (Pia Pichler).
19 Performing Gender Identity: Young Men's Talk and the Construction of Heterosexual Masculinity (Deborah Cameron).
20 Pushing at the Boundaries: The Expression of Alternative Masculinities (Jennifer Coates).
21 Playing the Straight Man: Displaying and Maintaining Male Heterosexuality in Discourse (Scott F. Kiesling).
Part V Women's Talk in the Public Domain.
22 Female Speakers of Japanese in Transition (Katsue Akiba Reynolds).
23 Governed by the Rules? The Female Voice in Parliamentary Debates (Sylvia Shaw).
24 "Doing Femininity" at Work: More than Just Relational Practice (Janet Holmes and Stephanie Schnurr).
25 Communities of Practice at Work: Gender, Facework and the Power of Habitus at an All-Female Police Station and a Feminist Crisis Intervention Center in Brazil (Ana Cristina Ostermann).
26 Trial Discourse and Judicial Decision-Making: Constraining the Boundaries of Gendered Identities (Susan Ehrlich).
Part VI Language, Gender, and Sexuality.
27 Lesbian Bar Talk in Shinjuku, Tokyo (Hideko Abe).
28 Boys' Talk: Hindi, Moustaches and Masculinity in New Delhi (Kira Hall).
29 Queering Gay Men's English (William L. Leap).
30 Indexing Polyphonous Identity in the Speech of African American Drag Queens (Rusty Barrett).
31 Language and Sexuality in Spanish and English Dating Chats (Marisol del-Teso-Craviotto).
Part VII Theoretical Debates (1): Gender or Power?
32 "Women's Language" or "Powerless Language"? (William M. O'Barr and Bowman K. Atkins).
33 Are "Powerless" Communication Strategies the Japanese Norm? (Patricia J. Wetzel).
34 When the Doctor is a "Lady": Power, Status and Gender in Physician–Patient Encounters (Candace West).
Part VIII Theoretical Debates (2): Difference or Dominance?
35 A Cultural Approach to Male–Female Miscommunication (Daniel N. Maltz and Ruth A. Borker).
36 Asymmetries: Women and Men Talking at Cross-Purposes (Deborah Tannen).
37 Selling the Apolitical (Senta Troemel-Ploetz).
Part IX Theoretical Debates (3): When is Gender Relevant?
38 Whose Text? Whose Context? (Emanuel A. Schegloff).
39 Gender Relevance in Talk-in-Interaction and Discourse (Ann Weatherall).
40 Yes, But Is It Gender? (Joan Swann).
Part X New Directions in Language and Gender Research.
41 Communities of Practice: Where Language, Gender, and Power All Live (Penelope Eckert and Sally McConnell–Ginet).
42 Gender and Language Ideologies (Deborah Cameron).
43 Social Constructionism, Postmodernism and Feminist Sociolinguistics (Janet Holmes).
Index.
A fully revised new edition of this popular reader which explores the widening range of language and gender research, both geographically and socially, along with changing theoretical and methodological approaches
Combines the very latest research with classic works that established the field
Features 23 new articles spanning 1997-2009 and includes two new sections on language, gender and sexuality, and the relevance of gender in the analysis of spoken interaction  
"Overall, this new edition is successful. Readers familiar with the original version will hopefully find the changes warranted and in line with the goals outlined by the authors in their introduction. It remains a highly useful text for graduate and advanced undergraduate courses in language and gender and for
anyone interested in the historical and current theoretical and methodological approaches to research on gender and language."  (Linguist, 27 August 2012)
A fully revised new edition of this popular Reader which explores the widening range of language and gender research, both geographically and socially, along with changing theoretical and methodological approaches
Combines the very latest research with classic works that established the field
Features 23 new articles spanning 1997-2009 and includes two new sections on language, gender and sexuality, and the relevance of gender in the analysis of spoken interaction
Draws on research from all over the world including Brazil, China, and Japan, as well as North America and Europe
Discusses a wide range of topics including single and mixed-sex talk; language, gender and power; gendered talk in the public domain; and language, gender and sexuality.
Includes accessible introductions to each section, which contextualize each entry