Language in Cognition: Uncovering Mental Structures and the Rules Behind Them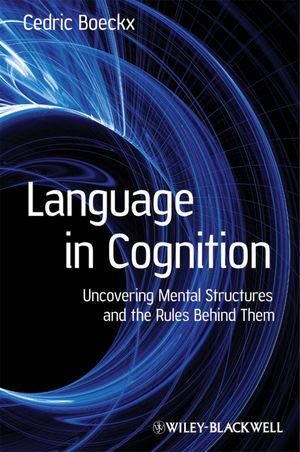 Language in Cognition: Uncovering Mental Structures and the Rules Behind Them
ISBN: 978-1-444-31004-7 November 2009 Wiley-Blackwell 264 Pages
Description
This textbook explores the ways in which language informs the structure and function of the human mind, offering a point of entry into the fascinating territory of cognitive science. Focusing mainly on syntactic issues, Language in Cognition is a unique contribution to this burgeoning field of study.
Guides undergraduate students through the core questions of linguistics and cognitive science, and provides tools that will help them think about the field in a structured way
Uses the study of language and how language informs the structure and function of the human mind to introduce the major ideas in modern cognitive science, including its history and controversies
Explores questions such as: what does it mean to say that linguistics is part of the cognitive sciences; how do the core properties of language compare with the core properties of other human cognitive abilities such as vision, music, mathematics, and other mental building blocks; and what is the relationship between language and thought?
Includes an indispensable study guide as well as extensive references to encourage further independent study
Acknowledgments.
ProloguePart I: Ever Since Chomsky:
1. Mind Matters: Chomsky's Dangerous Idea.
2. The Mechanization of the Mind Picture.
3. How the Mind Grows: From Meno to NoamPart II: Unweaving the Sentence:
4. Mental Chemistry.
5. The Variety of Linguistic Experience: The Towers of Babel and Pisa.
6. All Roads Lead to Universal GrammarPart III: The Mental Foundations of Behavior:
7. Making Sense of Meaning: An Instruction Manual.
8. Wonderful Mental Life: Unthinkable without Language.
9. Grammar Caught in the ActPart IV: Missing Links:
10. The (Mis)Measure of Mind.
11. Homo Combinans.
12. Computational Organology.
Epilogue.
Notes.
Guide to Further Study.
References.
Index.
"Amongst the book's strengths, particularly commendable are the connections made to other cognitive domains and the biological sciences." (The Linguist, July 2010)

"Although each subsection is brief, the author includes chapter-by-chapter notes of cited material at the end of the text. The motivated reader will have no trouble tracking down the primary sources that the author discusses." (PsycCRITIQUES, March 2010)
Guides undergraduate students through the core questions of linguistics and cognitive science, and provides tools that will help them think about the field in a structured way
Uses the study of language and how language informs the structure and function of the human mind to introduce the major ideas in modern cognitive science, including its history and controversies
Explores questions such as: what does it mean to say that linguistics is part of the cognitive sciences; how do the core properties of language compare with the core properties of other human cognitive abilities such as vision, music, mathematics, and other mental building blocks; and what is the relationship between language and thought?
Includes an indispensable study guide as well as extensive references to encourage further independent study