Language in Social Worlds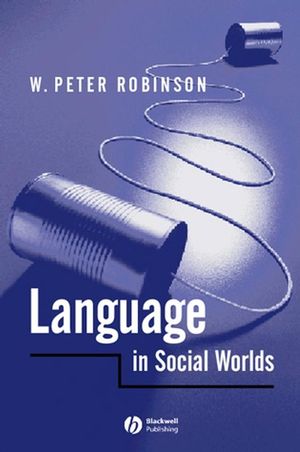 Language in Social Worlds
ISBN: 978-0-470-75197-8 April 2008 Wiley-Blackwell 392 Pages
Description
This is the first text on language in communication written from a social psychological perspective that sets issues in their broader biological, sociological and cultural contexts.
Table of contents
List of Fifures.
List of Tables.
Preface.
Acknowledgments.
1. Contextual Framework for Social Psychology of Language in Communication: Aims and Issues.
2. Language in and out of Context: Structure and Substance.
3. Functions of Language.
4. Non-Verbal Communication in Non-Human Creatures.
5. Human Non-Verbal Communication.
6. Encounter Regulation and Conversation.
7. Regulation of States and Behaviour of Self and Others.
8. Regulation and Marking of Social Relationships: Shaking Hands.
9. Terms of Address and Reference, and Being Polite.
10. Marking of States, Identities, and Settings: Issues.
11. Marking of States, Identities, and Settings: Data and Their Interpretation.
12. The Representational Function (F7).
13. Mass-Mediated Communication: Spirals of Spin and Broken Swords of Truth.
14. Representation and Regulation: Their Relevance to Social Class.
15. Five Theories and a Representation-As-Default Thesis.
16. Retrospect and Prospect.
References.
Name Index.
Subject Index.
Reviews
"I enjoyed reading this book. It provides a useful and comprehensive collection of different approaches to language and their relationships and implications for social psychology. Through his careful balance of both literature and anecdotal stories, the reader is given an accessible overview into the area." Abigail Locke, University of Derby, Social Psychological Review, October 2003
Features


This is a comprehensive text on language and communication written from a social psychological perspective.


It shows how language and non-verbal activities are integrated in the process of communication and looks at what language is used for and how it works in context.


For each topic a brief review is followed by evidence about the roles of verbal and non-verbal activity.


In all cases, descriptions and explanations are accompanied by data and experimental findings, ensuring a balanced approach.