Large Marine Ecosystems of the Indian Ocean: Assessment, Sustainability and Management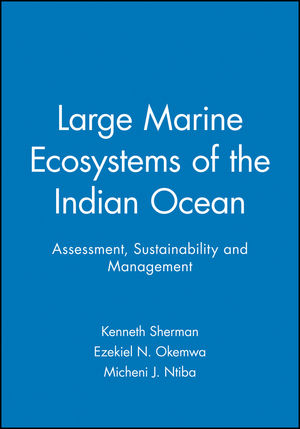 Large Marine Ecosystems of the Indian Ocean: Assessment, Sustainability and Management
ISBN: 978-0-632-04318-7 June 1998 Wiley-Blackwell 420 Pages
Description
In this volume marine experts from countries of East Africa and southern Asia describe the conditions of marine resources of the large marine ecosystems of the Indian Ocean. Countries of the region represent over a quarter of the world's population, most of whom are existing at or below the poverty level. The potentials for economic growth through the development of coastal tourism, mariculture, fisheries, mineral extraction, and oil and gas production are examined by the authors in relation to the need for ensuring the long-term sustainability of marine resources. Case studies of resource assessments presented by several authors illustrate the magnitude of risk from continuing degradation of resources under the prevailing unmanaged conditions extending over much of coastal areas of East Africa and southern Asia. The authors explore the application of multidisciplinary ecosystem-based assessment and management strategies to the future economic development of the large marine ecosystems of the region. With the initiation of science-based management practcies, the ecosystems of the area can provide an important source of economic growth, improved food security, and nutritional benefits to the populations of stakeholders in coastal areas bordering the Indian Ocean
Table of contents
Acknowledgments.
Preface.
Background And Focus.
Contributors.
Editor's Note.
Part I: Assessment And Sustainability Of Large Marine Ecosystems.
1. Assessment, Sustainability, And Monitoring Of Coastal Ecosystems: An Ecological Perspective.
2. Trawl Survey Strategies And Applications For Assessing The Changing State Of Fish Communities In Large Marine Ecosystems.
3. Ecosystems With The Continuous Plankton Recorder (CPR) And Undulating Oceanographic Recorder (UOR)/Aquashuttle.
4. An Overview Of The Status Of Marine Pollution In The East African Region.
5. Application Of The Large Marine Ecosystem Concept To The Somali Current.
Part II: Pelagic Ecosystems.
6. Coastal Upwelling And Other Processes Regulating Ecosystem Productivity And Fish Production In The Western Indian Ocean.
7. Seasonal Fluctuations In Plankton Biomass And Productivity In The Ecosystems Of The Somali Current, Gulf Of Aden, And Southern Red Sea.
8. Role Of Oceanic Fronts In Promoting Productivity In The Southern Indian Ocean.
9. Mean Monthly Sea-Level Variation And Its Relation To Large-Scale Ocean Circulation In The Southwest Indian Ocean.
10. Spiny Lobsters In The Indian Ocean: Speciation In Relation To Oceanographic Ecosystems.
11. Spatial-Temporal Structure Of Indian Ocean Ecosystems: A Large Scale Approach.
Part III: Case Studies.
12. The Role Of Estuaries In Large Marine Ecosystems: Examples From The Natal Coast, South Africa.
13. Fisheries Resources Of Zanzibar: Problems And Recommendations.
14. The Agulhas Current Ecosystem With Particular Reference To Dispersal Of Fish Larvae.
15. The Red Sea As An "Extension" Of The Indian Ocean.
16.The Status And Future Of The St Lucia Lake System: A Large Estuary Of The Southwestern Indian Ocean.
17. Biological Production And Fishery Potential Of The Exclusive Economic Zone (EEZ) Of India.
Part IV: Management and Governance.
18. Implications Of Agenda 21 Of UNCED On Marine Resources In East Africa With Particular Reference To Kenya And Tanzania.
19. Somalia Current Large Marine Ecosystem And Related Issues.
20. Legal Constraints And Options For Total Ecosystem Management Of Large Marine Ecosystems.
21. Application Of Integrated Environmental Management Toward Solving The Problems Affecting The Tana River Delta And Its Linkage With The Somali Current Ecosystem.
22. Marine Conservation Areas In Kenya.
23. Indian Ocean Large Marine Ecosystems: Need For National And Regional Framework For Conservation And Sustainable Development.
24. Regional Stewardship For Sustainable Marine Resources Management In The Bay Of Bengal.
25. Summary And Recommendations.
Index.