Large Quantity Recipes, 4th Edition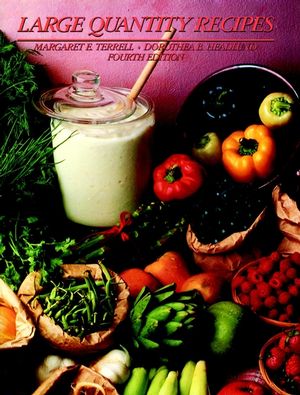 Large Quantity Recipes, 4th Edition
ISBN: 978-0-471-28854-1
Dec 1988
528 pages
Description
Practical, scalable recipes designed to reliably feed a crowd
Large Quantity Recipes, 4th Edition, offers food service kitchens a repository of reliable recipes designed specifically for larger-scale production. Over 1,000 recipes designed to serve 50 or more are laid out for efficiency, with weights and volumes provided side-by-side along with pan measurements and references to equipment commonly found in commercial kitchens. Covering all courses including breads, meat, seafood, salads, desserts, cocktails and more, this invaluable resource facilitates menu planning at a variety of cost levels, reducing the need for substitution or scaling.
Breads.

Beverages and Cocktails.

Soups.

Cheese, Egg, Cereal, and Vegetable Entrees.

Fish.

Meats.

Poultry.

Vegetables.

Sauces, Relishes, and Stuffings.

Salads and Salad Dressings.

Sandwiches and Canapes.

Cakes and Frostings.

Cookies.

Puddings.

Pastry.

Appendix.

Index.