Las Vegas: The Social Production of an All-American City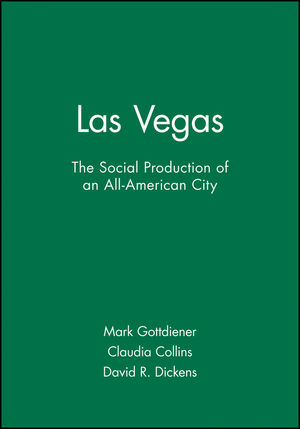 Las Vegas: The Social Production of an All-American City
ISBN: 978-1-577-18136-1
Jan 2000, Wiley-Blackwell
304 pages
Product not available for purchase
Description
Most writing about Las Vegas focuses on the spectacular story of casino gambling and tourism. This book is different.
Written by two renowned urban studies scholars and a local Las Vegas journalist, combining scholarly research with investigative reporting
First academic book to provide a synthesis on the recent growth of Las Vegas
Appropriate for courses in urban studies, economic development and tourism, communities and cultural studies
List of Tables.
List of Maps.
List of Figures.
Acknowledgments.
Preface.
1. From Desert Oasis to Glitter Capital of the World.
2. Corporations and the Advent of Megaresorts.
3. Media Vegas: Hype, Boosterism, and the Image of the City.
4. The Advent of Metropolitanization: Rapid Population Growth and a Booming Economy.
5. The Normalization Process I: The Construction of Community Life by the Private Sector.
6. The Normalization Process II: The Production of Civic Culture by the Public Sector.
7. Living in Las Vegas.
8. Local Politics and Community Interests.
9. Las Vegas: An All-American Metropolis.
References.
Index.
"
Sin City
goes the way of Ozzie and Harriett? In this brilliant, well-documented probing of the nation's fastest growing metro area, the authors show how the abnormal city of gambling and vice has normalized. Now Las Vegans and their politicians face the urban challenges - from water and air pollution to traffic congestion and crime - that other urbanites encounter. As Las Vegas becomes more like America, America becomes more like Las Vegas."
Joe Feagin, University of Florida
<!--end-->
"Well documented and including numerous maps, charts, and figures, the book examines all aspects of urban development. Librarians should buy this book, it would fit into a public library nicely and is essential for universities." Library Journal

"Urbanists from all fields will benefit from learning about an unusually usual city. In short, Mark Gottdiener, Claudia Collins and David Dickens have boldly gone where no sociologists have gone before and, to use Las Vegas parlance, rolled seven. they have written a fascinating book on a fascinating subject." Michael S. Green, Community College of Southern Nevada

"The greatest virtue of this book is its in-depth look at the evolution of Las Vegas during the last twenty years. There is simply no better set of data about the recent history of the city. Gottdiener, Collins and Dickens excel at tracking politics and its implications, correctly noting the problems of managing not only growth but also social evolution with weak governmental institutions." Hal Rothman, University of Nevada, Las Vegas.

"Las Vegas is an intriguing mix of travel guide, political reporting, and urban commentary and thus presents a more topical, nuanced, and balanced profile of America's fastest growing metropolitan region than anything else currently available. The book fits nicely into undergraduates courses in urban sociology, geography, and politics." American Journal of Sociology

"... provides a complex and densely layered snapshot of a place all too often taken at face value." Journal of the Society of Architectural Historians
Written by two renowned urban studies scholars and a local Las Vegas journalist, combining scholarly research with investigative reporting
First academic book to provide a synthesis on the recent growth of Las Vegas
Appropriate for courses in urban studies, economic development and tourism, communities and cultural studies