Las Vegas For Dummies, 6th Edition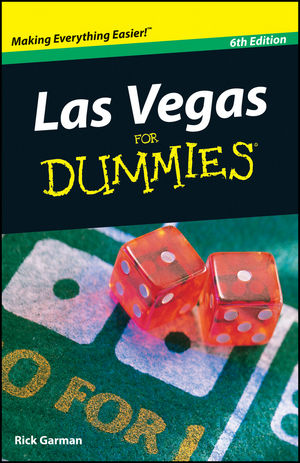 Las Vegas For Dummies, 6th Edition
ISBN: 978-0-470-64375-4
Nov 2010
336 pages
Description
Fun in Las Vegas is a sure bet!
Get set for a winning vacation in Vegas. Stroll by the Eiffel Tower, meander down the canals of Venice, gaze at an Egyptian pyramid, or cross the Brooklyn Bridge. Take in a show, experience the Strip, hit the casinos, enjoy fine cuisine, power shop, or even explore nearby natural wonders. Whether you want exciting action or relaxing luxury, with this friendly guide you've hit the jackpot.
Open the book and find:
Down-to-earth trip-planning advice

What you shouldn't miss —and what you can skip

The best hotels and restaurants for every budget

Lots of detailed maps
Introduction.
Part I: Introducing Las Vegas.
Chapter 1: Discovering the Best of Las Vegas.
Chapter 2: Digging Deeper into Las Vegas.
Chapter 3: Deciding When to Go.
Part II: Planning Your Trip to Las Vegas.
Chapter 4: Managing Your Money.
Chapter 5: Getting to Las Vegas.
Chapter 6: Catering to Special Travel Needs or Interests.
Chapter 7: Taking Care of the Remaining Details.
Part III: Settling Into Las Vegas.
Chapter 8: Arriving and Getting Oriented.
Chapter 9: Checking In at Las Vegas's Best Hotels.
Chapter 10: Dining, Las Vegas Style.
Part IV: Exploring Las Vegas.
Chapter 11: Luck Be a Lady: Gambling Tips and Tricks.
Chapter 12: Discovering Las Vegas's Best Attractions.
Chapter 13: Shopping the Local Stores.
Chapter 14: Doubling Your Odds: A Pair of Itineraries.
Chapter 15: Going Beyond Las Vegas: Day Trips.
Part V: Living It Up After Dark: Las Vegas Nightlife.
Chapter 16: It's Showtime!
Chapter 17: Bars, Stars, and Gee-tars: Las Vegas at Night.
Part VI: The Part of Tens.
Chapter 18: Ten Las Vegas Claims to Fame.
Chapter 19: Ten (Or So) Las Vegas Institutions That Are No More.
Chapter 20: Top Ten Vegas Values.
Chapter 21: Nevada's Top Ten Desert Denizens.
Appendix: Quick Concierge.
Index.