Last Writings on the Phiosophy of Psychology: Preliminary Studies for Part II of Philosophical Investigations, Volume 1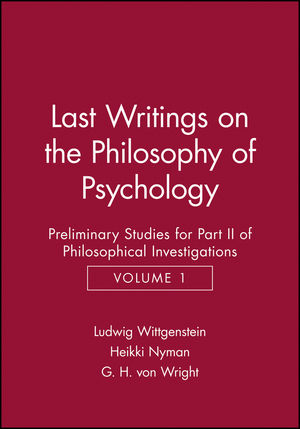 Last Writings on the Phiosophy of Psychology: Preliminary Studies for Part II of Philosophical Investigations, Volume 1
ISBN: 978-0-631-17121-8
Jan 1991, Wiley-Blackwell
284 pages
Description
This first volume of Wittgenstein's Last Writings on the Philosophy of Psychology was written between October 1948 and March 1949, when the philosopher had moved to Dublin and was having one of his most fruitful working periods. He then finished work which he had begun in 1946 and which in its entirety constitutes the source material for Part II of the "Philosophical Investigations". When, later in 1949, Wittgenstein composed the manuscript for Part II he selected more than half the remarks for it from the Dublin manuscript.

Although this material is a direct continuation of the writings which make up the two volumes of the Remarks on the Philosophy of Psychology it deserves more than they to be regarded as a "preliminary study" for the second part of Wittgenstein's "chef-d'oeuvre".
Parallel text in English and German
This is the only remaining Wittgenstein book never to have appeared in paperback.