Latinos in America: Philosophy and Social Identity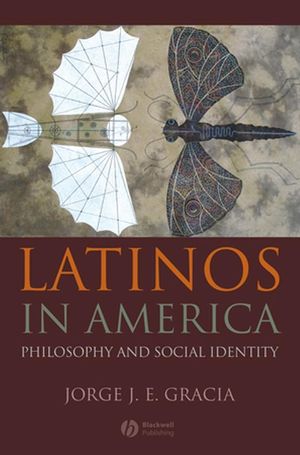 Latinos in America: Philosophy and Social Identity
ISBN: 978-0-470-69574-6 April 2008 Wiley-Blackwell 272 Pages
Description
A first-of-its-kind book that seriously and profoundly examines what it means philosophically to be Latino and where Latinos fit in American society.



Offers a fresh perspective and clearer understanding of Latin American thought and culture, rejecting
answers based on stereotypes and fear


Takes an interdisciplinary approach to the philosophical, social, and political elements of Hispanic/Latino
identity, touching upon anthropology, history, cultural studies and sociology, as well as philosophy


Written by Jorge J. E. Gracia, one of the most influential thinkers of Hispanic/Latino descent
Preface: The Latino Challenge.
I. Latino/a Identities.
1. Identities: General and Particular.
2. Individuation: Circularity and Demarcation.
3. Labels: Politics and Names.
II. Latinos/as in Society.
4. Marketplace: Survival and Flourishing.
5. Affirmative Action: Meaning and Justification.
6. Linguistic Rights: Language and Children.
III. Latino/a Philosophy.
7. Philosophy: Latino vs American.
8. Canon: Place and Future.
9. History: Role and Approach.
Conclusion: Latinos in America.
Bibliography.
Index


The first book to seriously and profoundly examine what it means philosophically to be Latino, and where
Latinos fit in American Society


Offers a fresh perspective and clearer understanding of Latin American thought and culture, rejecting
answers based on stereotypes and fear


Takes an interdisciplinary approach to the philosophical, social, and political elements of Hispanic/Latino
identity, touching upon anthropology, history, cultural studies and sociology, as well as philosophy


Written by Jorge J. E. Gracia, one of the most influential thinkers of Hispanic/Latino descent