Law School For Dummies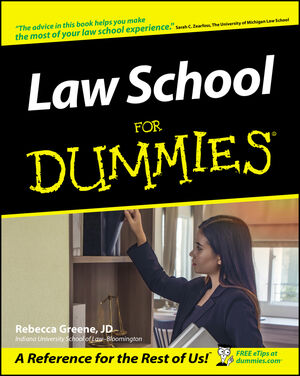 Law School For Dummies
ISBN: 978-1-118-06874-8 April 2011 384 Pages
Description
The straightforward guide to surviving and thriving in law school

Every year more than 40,000 students enter law school and at any given moment there are over 125,000 law school students in the United States. Law school's highly pressurized, super-competitive atmosphere often leaves students stressed out and confused, especially in their first year. Balancing life and schoolwork, passing the bar, and landing a job are challenges that students often need help facing. In Law School For Dummies, former law school student Rebecca Fae Greene uses straight talk, sound advice, and gentle humor to help students sort through the swamp of coursework and focus on what's important–all while maintaining a life. She also offers rare insight on the law school experience for women, minorities, non-traditional, and non-Ivy League students.
Introduction.
Part I: Considering Law School.
Chapter 1: Exploring the Realities of Law School.
Chapter 2: Appreciating Diversity in Your Law School Class.
Chapter 3: Choosing the Best Law School for You.
Chapter 4: Using Battle-Tested Application Strategies to Succeed.
Part II: Getting What You Came for: The Law School Experience.
Chapter 5: Getting Into the 1L Groove.
Chapter 6: Surviving Typical First-Year Classes: A Crash Course.
Chapter 7: Don't Sweat the Small Stuff: Keeping Academics in Perspective.
Part III: Studying Law: Secret Techniques That Really Work.
Chapter 8: Thinking and Talking like a Lawyer.
Chapter 9: Romancing the Tome: Making the Most of Your Study Time.
Chapter 10: Assembling Your Personal Study Aid Arsenal.
Chapter 11: The Longest Three Hours of Your Life: Acing Your Law School Exams.
Part IV: You're Halfway There (2Ls and 3Ls).
Chapter 12: One from Column A: Choosing Your Courses.
Chapter 13: Not a Moot Point: Getting Involved in Law School.
Part V: Preparing for Your Future.
Chapter 14: Landing Your Perfect Summer Job.
Chapter 15: Getting the Lowdown on Careers.
Chapter 16: Narrowing Your Focus: Choosing an Area of Practice.
Chapter 17: Thinking Outside the Box: Considering Alternative Legal Careers.
Part VI: Wrapping Up Your Law School Career.
Chapter 18: In a Class of Its Own: Preparing for the Bar Exam.
Chapter 19: Moving toward Graduation — and Beyond.
Part VII: The Part of Tens.
Chapter 20: Ten Plus User-Friendly Law School Resources.
Chapter 21: Ten Best and Worst Things about Law School.
Chapter 22: Ten Little-Known Law School Secrets.
Index.