Lead Generation Approaches in Drug Discovery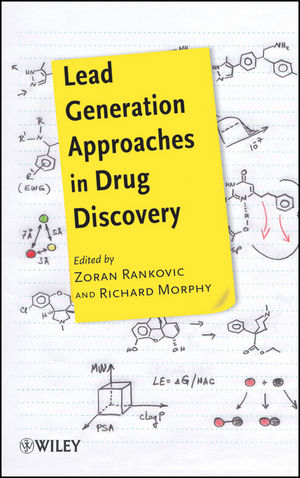 Lead Generation Approaches in Drug Discovery
ISBN: 978-0-470-25761-6 March 2010 308 Pages
Description
An integrated overview of modern approaches to lead discovery
Lead generation is increasingly seen as a distinct and success-determining phase of the drug discovery process. Over recent years, there have been major advances in the understanding of what constitutes a good lead compound and how to improve the chances of finding such a compound. Written by leading scientists and established opinion leaders from industry and academia, this book provides an authoritative overview of the field, as well as the theory, practice, and scope, of the principal Lead Generation Approaches in Drug Discovery, including:
The evolution of the lead discovery process, key concepts, current challenges, and future directions

Strategies and technologies driving the high-throughput screening (HTS) approach to lead discovery, including the shifting paradigms in the design of compound collections and best practice in the hit confirmation process

Knowledge-based in silico or "virtual" screening

Theory and practice of the fragment-based approach to lead discovery

The opportunities and challenges presented by multi-target drug discovery (MTDD)

De novo design of lead compounds and new approaches to estimating the synthetic accessibility of de novo–designed molecules

The impact of natural products on drug discovery, and potential of natural product–like compounds for exploring regions of biologically relevant chemical space

Using early screening of hits and leads for metabolic, pharmacokinetic, and toxicological liabilities to reduce attrition during the later phases of drug discovery

The utility of parallel synthesis and purification in lead discovery
With each topic supported by numerous case studies, this is indispensable reading for researchers in industry and academia who wish to keep up to date with the latest strategies and approaches in drug discovery.
PREFACE.
CONTRIBUTORS.
1 Lead Discovery: The Process (William F. Michne).
2 High Throughput Screening Approach to Lead Discovery (Zoran Rankovic, Craig Jamieson, and Richard Morphy).
3 In Silico Screening (Dagmar Stumpfe, Hanna Geppert, and Jürgen Bajorath).
4 Fragment-Based Lead Discovery (Jeffrey S. Albert).
5 Design of Multitarget Ligands (Richard Morphy and Zoran Rankovic).
6 De novo Drug Design (Gisbert Schneider, Markus Hartenfeller, and Ewgenij Proschak).
7 Role of Natural Products in Drug Discovery (Hugo Lachance, Stefan Wetzel, and Herbert Waldmann).
8 Early Screening for ADMET Properties (Dennis A. Smith).
9 Role of Chemistry in Lead Discovery (Roland E. Dolle and Karin Worm).
INDEX.
"The book provides a comprehensive overview of many aspects of the lead generation process . . . The book delivers a good introduction to the process of lead generation for novice researchers. It is also useful for more experienced scientists to update their knowledge and/or to identify some new details." (ChemMedChem, October 2010)
"This volume is recommended to chemists and biologists who wish to learn about the practice of high throughput screening and about the concepts involved in making the method a successful route to drug discovery." (Journal of Medicinal Chemistry, 2010)"Each chapter provides a comprehensive overview of one aspect of the lead generation process. To get more indepth knowledge, extensive references including recent publications are given." (ChemMedChem, 2010)