Leader to Leader (LTL), Volume 65, Summer 2012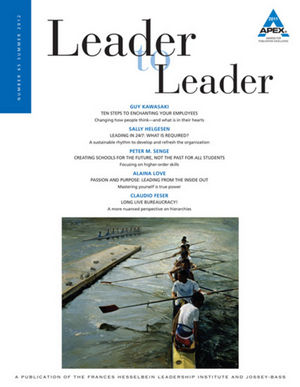 Leader to Leader (LTL), Volume 65, Summer 2012
ISBN: 978-1-118-41026-4 July 2012 Jossey-Bass 68 Pages
Description
Get insightful articles on leadership, management, and strategy written by today's leaders with this award-winning journal. Brought to you by the Frances Hesselbein Leadership Institute, Leader to Leader brings together a peerless selection of world-class executives, best-selling management authors, top consultants, and respected social thinkers. Leader to Leader poses provocative questions that challenge your leadership assumptions and provides compelling evidence powerful enough to change your leadership thinking while offering thoughtful analysis of complex leadership issues.
HESSELBEIN & COMPANY

Frances Hesselbein 4
Courage and Hope: A Powerful Combination
Emerging trends for a bright future.
Michele Hunt, Rodrigo Baggio, and Peter M. Senge 7
The Center for Digital Inclusion: A Powerful Catalyst for Change
Profound change for the lives of the marginalized and underserved.
Joel A. Garfinkle 14
Getting Ahead: Three Steps to Take Your Career to the Next Level
Leveraging perception, visibility, and influence.
Roger Kaufman 21
Defining and Applying Organizational Vital Signs for Creating a Better Tomorrow
Criteria for organizational self-assessment.
Suzanne Bates 27
Brand Recognition—What Do People Say About You?
Speed up progress on your important goals.
EXECUTIVE FOR UM
Guy Kawasaki 33
Ten Steps to Enchanting Your Employees
Deep, delightful, and long-lasting relationships.
Sally Helgesen 38
Leading in 24/7: What Is Required?
Push back against unremitting urgency.
Peter M. Senge 44
Creating Schools for the Future, Not the Past for All Students
Rethink basic assumptions about how schools work.
Alaina Love 50
Passion and Purpose: Leading From the Inside Out
The factors that unleash energy into an organization's culture.
Claudio Feser 57
Long Live Bureaucracy!
Organizational structures are how firms organize their work.
FROM THE FRONT LINES
R&D: The Lifeblood of Growth 63
Use a portfolio approach to manage R&D and innovation.
The Evolving Roles of the Chief Information Officer 64
Change agents who create new realities and opportunities.