Leader to Leader (LTL), Volume 69, Summer 2013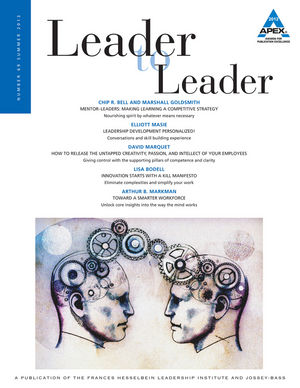 Leader to Leader (LTL), Volume 69, Summer 2013
ISBN: 978-1-118-73742-2
Jul 2013, Jossey-Bass
64 pages
Description
Get insightful articles on leadership, management, and strategy written by today's leaders with this award-winning journal. Brought to you by the Frances Hesselbein Leadership Institute, Leader to Leader brings together a peerless selection of world-class executives, best-selling management authors, top consultants, and respected social thinkers. Leader to Leader poses provocative questions that challenge your leadership assumptions and provides compelling evidence powerful enough to change your leadership thinking while offering thoughtful analysis of complex leadership issues.
HESSELBEIN & COMPANY
Frances Hesselbein 4
Strengthening Daily Life and Civil Society
Common questions and common challenges across the sectors
Lee Cockerell 7
The Customer Rules
Make service excellence part of every employee's job description
Kiran Mazumdar-Shaw 12
Leading with a Social Conscience
Commitment to humanity and passion to make a difference
Leland A. Russell 17
First Principles for Winning in a Warp Speed World
Forethought, integration, responsibility, speed, and transitions
Rebecca Shambaugh 24
Integrated Leadership: Leveraging Gender Strengths to Drive Better Business Outcomes
Better balance means better business results
EXECUTIVE FORUM
Chip R. Bell and Marshall Goldsmith 31
Mentor–Leaders: Making Learning a Competitive Strategy
An atmosphere of openness to conflicting and opposing views
Elliott Masie 37
Leadership Development Personalized!
A series of experiments and innovations
David Marquet 42
How to Release the Untapped Creativity, Passion, and Intellect of Your Employees
From leader–follower to leader–leader
Lisa Bodell 48
Innovation Starts with a Kill Manifesto
Create space for innovation by eliminating the obstacles
Arthur B. Markman 55
Toward a Smarter Workforce
Bring cognitive science research into your leadership practice
FROM THE FRONT LINES
Mentoring as a Source of Organizational Advantage 60
A positive and direct effect on key work outcomes
The Role of Project Management in the Execution of Corporate Strategy 61
Tools, techniques, and practices