Leader to Leader (LTL), Volume 78 , Fall 2015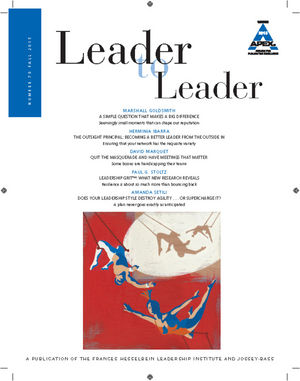 Leader to Leader (LTL), Volume 78 , Fall 2015
ISBN: 978-1-119-18174-3
Oct 2015, Jossey-Bass
64 pages
Description
Get insightful articles on leadership, management, and strategy written by today's leaders with this award-winning journal. Brought to you by the Frances Hesselbein Leadership Institute, Leader to Leader brings together a peerless selection of world-class executives, best-selling management authors, top consultants, and respected social thinkers. Leader to Leader poses provocative questions that challenge your leadership assumptions and provides compelling evidence powerful enough to change your leadership thinking while offering thoughtful analysis of complex leadership issues.
HESSELBEIN & COMPANY
FRANCES HESSELBEIN 4
25 Years . . . We Are Grateful
Asking questions and challenging the status quo
ADRIAN WILSON & BELINDA PINCKNEY 7
Pathways to Support Career- and College-Ready Students: Bridging the Great Mismatch in the American Labor Market Today
Leveraging information in the students' natural support community
MO YEE LAM 14
Win Your Own Race
Learn to enjoy a little more adrenaline
BERNHARD SCHROEDER 19
Leaders: Build Customer Truth into Your Company DNA
Think relentless, which means "unending"
JENNIFER GARVEY BERGER & KEITH JOHNSTON 25
Simple Habits for Complex Times
Leaders have to change what they're doing, and fast
EXECUTIVE FORUM
MARSHALL GOLDSMITH 31
A Simple Question That Makes a Big Difference
Make peace with what we are not going to change
HERMINIA IBARRA 37
The Outsight Principal: Becoming a Better Leader from the Outside In
Positive illusions persist despite negative feedback
DAVID MARQUET 43
Quit the Masquerade and Have Meetings That Matter
Too stressed out to feel safe
PAUL G. STOLTZ 49
Leadership GRIT™: What New Research Reveals
Take on goals that elevate you and those around you
AMANDA SETILI 56
Does Your Leadership Style Destroy Agility . . . or Supercharge it?
Committed to the path, fully alert, and ready to navigate the unexpected
FROM THE FRONT LINES
The Importance of Changes at Corporate Headquarters 62
Carrying a symbolic meaning
Innovation Portfolio Management Now and in the Future 63
A key determinant of firms' survival and performance