Leader to Leader (LTL), Volume 79, Winter 2016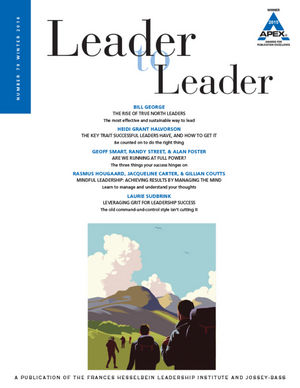 Leader to Leader (LTL), Volume 79, Winter 2016
ISBN: 978-1-119-23687-0
Jan 2016, Jossey-Bass
64 pages
Description
Leader to Leader, the Hesselbein Institute's award-winning quarterly journal, offers cutting-edge thinking on leadership, management, and strategy written by today's top thought leaders from the private, public and social sectors. It is mailed quarterly to all Institute members and is also available by subscription.
FRANCES HESSELBEIN 4
An Adventure in Learning and Exploration
A life-changing experience for students and mentors
EDUARDO BRAUN 6
Multiplying Your Results with Culture
A dual framework to understand and manage an organization
MINDY HALL 12
Leading Your Culture: Four Key Areas Leaders Should Focus On
One of the most important levers of success you will ever experience
CHRISTOPHER S. AHMAD 18
Would You Want Your Surgeon to Have a Coach?: How Elite Performers Achieve Mastery
Top performers visualize their idealized performance
MARTIN REEVES 24
Leaders Beware: One Size Does Not Fit All When It Comes to Strategy
When in doubt, disrupt
EXECUTIVE FORUM
BILL GEORGE 30
The Rise of True North Leaders
Living authentically and pursuing your purpose
HEIDI GRANT HALVORSON 36
The Key Trait Successful Leaders Have, and How to Get It
Convey warmth by paying attention
GEOFF SMART, RANDY STREET, & ALAN FOSTER 41
Are We Running at Full Power?
How to avoid "Voodoo Hiring" techniques
RASMUS HOUGAARD, JACQUELINE CARTER, & GILLIAN COUTTS 49
Mindful Leadership: Achieving Results by Managing the Mind
Don't be a victim of the PAID reality
LAURIE SUDBRINK 57
Leveraging GRIT® for Leadership Success
The perfect balance of confidence and humility
FROM THE FRONT LINES
Productive Thinking About Sustainability 63
Not just another buzzword
The Promise and Potential of Big Data 64
Variety, volume, and velocity