Leaders Who Make a Difference: Essential Strategies for Meeting the Nonprofit Challenge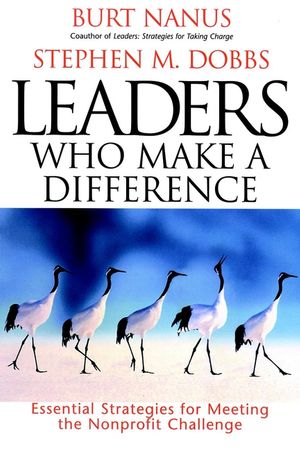 Leaders Who Make a Difference: Essential Strategies for Meeting the Nonprofit Challenge
ISBN: 978-0-787-94665-4 September 1999 Jossey-Bass 304 Pages
Description
""Nanus and Dobbs have written a seminal book about a long-neglected and key area of American life: the leadership of not-for-profits.... It's a first and should be read by all those concerned about not-for-profits: board members most especially, but volunteers, executives, benefactors, and academics as well.""
--Warren Bennis, University Professor, Marshall School of Business, University of Southern California, and coauthor of Organizing Genius

""These authors have made a remarkable contribution to social sector nonprofit leadership. It's a valuable resource by two great authorities on a critical need.""
--Frances Hesselbein, chairman of the board, The Peter F. Drucker Foundation for Nonprofit Management

""If there's one thing that today's nonprofit sector needs more than anything else, it's leadership.... Burt Nanus and Stephen Dobbs illustrate the qualities that do 'make a difference' by telling real-life stories of exceptional nonprofit leaders--few of them household names--and examining the lessons these men and women learned the hard way.""
--Dorothy S. Ridings, president and CEO, Council on Foundations

There are many books on leadership, but few that focus specifically on the unique role of nonprofit executives. For the CEOs and directors of more than one million U.S. social sector organizations--as well as those who aspire to these positions--best-selling author Burt Nanus and colleague Stephen M. Dobbs have written the first comprehensive and authoritative book on nonprofit leadership.

The authors show how leaders build successful nonprofit organizations by developing key relationships to improve their performance and move them toward a greater good--such as much higher levels of service to their clients and community. They describe the six key roles that effective leaders must play--Visionary, Strategist, Change Agent, Coach, Politician, and Fundraiser--and present inspiring examples of how their actions in these roles have been crucial to the success of large and small nonprofits flourishing across the nation. Leaders Who Make a Difference offers proven lessons on strategy, team building, fundraising, advocacy, board relations, and much more. Grounded in real-world practice, the book champions the potential of all nonprofit leaders to greatly improve the performance of their organizations and realize their visions of better communities.
LEADERSHIP IN NONPROFIT ORGANIZATIONS.

The Leadership Challenge.

The Greater Good.

Getting Started as a Leader.

BUILDING THE ORGANIZATION.

Leader as Visionary: Dreaming the Dream.

Leader as Strategist: Finding the Way.

Leader as Change Agent: Transforming the Organization.

STRENGTHENING RELATIONSHIPS.

Leader as Coach: Building the Team.

Leader as Politician: Advocate, Troubleshooter, and Spokesperson.

Leader as Campaigner: Maintaining the Financial Lifeline.

MAKING A DIFFERENCE.

Measuring Results: Being Accountable.

Leaving a Legacy.
""Nanus and Dobbs have written a seminal book about a long-neglected and key area of American life: the leadership of not-for-profits. The examples and concepts, written in a marvelously down-to-earth and lucid manner, will, I promise, double--at the very least--the effectiveness of these increasingly important institutions. It's a first and should be read by all those concerned about not-for-profits: board members most especially, but volunteers, executives, benefactors, and academics as well."" (Warren Bennis, University Professor, Marshall School of Business, University of Southern California, and coauthor of Organizing Genius)

""These authors have made a remarkable contribution to social sector nonprofit leadership. It's a valuable resource by two great authorities on a critical need."" (Frances Hesselbein, chairman of the board, The Peter F. Drucker Foundation for Nonprofit Management)

""This book is grounded in relevant theory and in practical experience. It is clear, comprehensive, and convincing. I'd recommAnd it to anyone who has entered the nonprofit arena."" (Howard Gardner, professor of cognition and education and adjunct professor of psychology, Harvard University, and author of Leading Minds: An Anatomy of Leadership)

""Leaders Who Make a Difference captures the essence of nonprofit leadership in a clear and comprehensive approach. Nanus and Dobbs have shown nonprofit leaders the way to organization building, strengthening relationships that effect change, and most importantly, enable the nonprofit to make a vital difference."" (Eileen W. Goldblatt, president and chief executive officer, ""I Have a Dream"" Foundation)

""Leaders of nonprofit organizations will find no better book to understand their leadership. This will be a text for students, a guide for practitioners, and a reminder for experienced leaders. The authors combine insightful theory with case studies of some of the finest nonprofit leaders today. A winning combination."" (Lovett H. Weems Jr., president, Saint Paul School of Theology, and author of Church Leadership)

""If there's one thing that today's nonprofit sector needs more than anything else, it's leadership. In Leaders Who Make a Difference, Burt Nanus and Stephen Dobbs illustrate the qualities that do 'make a difference' by telling real-life stories of exceptional nonprofit leaders--few of them household names--and examining the lessons these men and women learned the hard way."" (Dorothy S. Ridings, president and CEO, Council on Foundations)

""This well researched book is written to help current CEOs, as well as to develop and motivate individuals now emerging from all segments of our society to lead with confidence and competence into and through the next century."" (Clark A. Blasdell, president and CEO, Northbay Ecumenical Homes)