Leadership Agility: Five Levels of Mastery for Anticipating and Initiating Change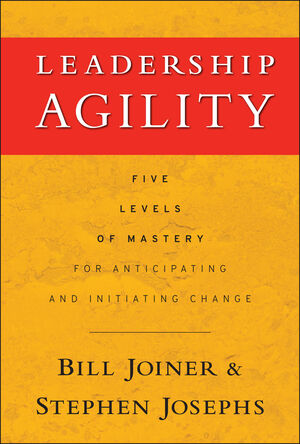 Leadership Agility: Five Levels of Mastery for Anticipating and Initiating Change
ISBN: 978-0-470-89392-0 June 2010 Jossey-Bass 336 Pages
Description
Leadership Agility is the master competency needed for sustained success in today's complex, fast-paced business environment. Richly illustrated with stories based on original research and decades of work with clients, this groundbreaking book identifies five levels that leaders move through in developing their agility. Significantly, only 10% have mastered the level of agility needed for consistent effectiveness in our turbulent era of global competition. Written in an engaging, down-to-earth style, this book not only provides a map that guides readers in identifying their current level of agility. It also provides practical advice and concrete examples that show managers and leadership development professionals how they can bring greater agility to the initiatives they take every day.
Introduction: The Master Competency.
Part One:What Is Leadership Agility?
1 Agility in a World of Change and Complexity.
2 The Five Eds.
3 Four Competencies for Agile Leadership.
Part Two: Five Levels of Leadership Agility.
4 Expert Level: Solve Key Problems.
5 Achiever Level: Accomplish Desired Outcomes.
6 Catalyst Level:Mobilize Breakout Endeavors.
7 Co-Creator Level: Realize Shared Purpose.
8 Synergist Level: Evoke Unexpected Possibilities.
Part Three: Becoming a More Agile Leader.
9 Assessing Leadership Agility.
10 Developing Leadership Agility.
Appendix A: Research Behind This Book.
Appendix B: Stages of Personal Development.
Notes for Inquiring Readers.
References.
Resources.
Acknowledgments.
The Authors.
Index.