Leadership Lessons from West Point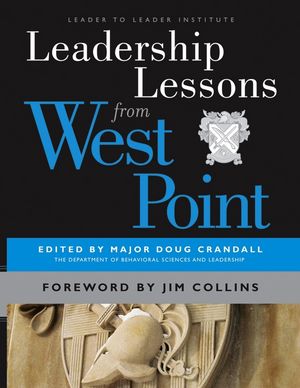 Leadership Lessons from West Point
ISBN: 978-1-118-00912-3
Nov 2006, Jossey-Bass
430 pages
Description
With Leadership Lessons from West Point as a guide, leaders in the business, nonprofit, and government sectors can learn leadership techniques and practices from contributors who are teaching or have taught at the U.S. Military Academy at West Point and have served in positions of leadership that span the globe. These military experts cover a broad range of topics that are relevant to any leadership development program in any sector. The articles in this important resource offer insight into what leadership means to these experts—in both war and peacetime—and describe their views on quiet leadership, mission, values, taking care of people, organizational learning, and leading change.
A Note from the Leader to Leader Institute (
Frances Hesselbein
).
Foreword (Jim Collins).
Acknowledgments.
About the Contributors.
Introduction (Doug Crandall).
PART ONE: LEADERSHIP AND VALUES DEVELOPMENT.
1 Becoming a Leader Developer (Eric G. Kail).
2 Learning from Failure (Doug Crandall).
3 You Must Lead Yourself First (Greg Hastings).
4 Influencing Your Organization's Moral Philosophy (Brian Tribus).
5 Developing Organizational Values in Others (Chip Daniels).
6 The Authentic High-Impact Leader (Sean T. Hannah).
7 Leader Development and Self-Awareness in the U.S. Army Bench Project (Dennis P. O'Neil, Patrick J. Sweeney, James Ness, Thomas A. Kolditz).
PART TWO: LEADERSHIP STYLES AND SITUATIONS.
8 Teaming High-Potential Talent (Jack Jefferies).
9 Leading as If Your Life Depended on It (Thomas A. Kolditz).
10 Creating Urgency and Inspiring Your Team (Robert Morris).
11 Quiet Leadership (Eric J. Weis).
12 Leading Without Words (Jeff Bergmann).
13 Developing Charisma with Caution (Dena Braeger).
14 Trust: The Key to Combat Leadership (Patrick J. Sweeney).
PART THREE: LEADING ORGANIZATIONS.
15 Socialized Leadership (Todd Henshaw).
16 Leading at the Business End of Policy (James Tuite).
17 Harnessing the Power of Culture and Diversity for Organizational Performance (Remi Hajjar, Morten G. Ender).
18 Developing Organizational Commitment by Putting People First (Todd Woodruff).
19 Managing Expectations When Leading Change (Everett S. P. Spain).
Index.
Topics include: what leaders can learn from their failures; how to get mavericks to work together as an effective team; how to manage expectations when leading change; how to gain the trust of your staff; and more.

Addresses effective and successful leadership, which is critical in any organization—including the military, corporate America, small businesses, and nonprofit organizations.

Stellar author platforms and outreach: Authored by 19 U.S. Army leadership experts who have led successfully in the field and in combat--and who now teach or have taught leadership to the cadets at West Point and train the Army's future successful leaders.

Foreword by author Jim Collins