Leadership for a Better World: Understanding the Social Change Model of Leadership Development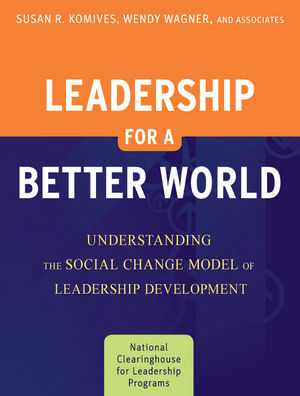 Leadership for a Better World: Understanding the Social Change Model of Leadership Development
ISBN: 978-0-470-44949-3
Jun 2009, Jossey-Bass
496 pages
Product not available for purchase
Description
Praise for Leadership for a Better World
"What a powerful, very needed, and welcome sequel to A Social Change Model for Leadership Development Guidebook. It is a book for students, faculty, and everyone who engages in leadership for social change for a better world. It is an inspiring and liberating book in that it validates each one of us as we discover and practice the gifts we have been given." —Helen S. Astin, professor emerita of higher education and senior scholar, Higher Education Research Institute, UCLA
"While simple schemes and models of leadership can have their appeal, the more challenging view proposed in Leadership for a Better World is not only more realistic but infinitely more fulfilling. This form of leadership calls us to look at our own deep yearnings and then respect those of others in the amazing global community of the twenty-first century." —Denny Roberts, assistant vice president for faculty and student services, Qatar Foundation
"Positing that social change is at the heart of the leadership experience, Leadership for a Better World answers the question of 'leadership for what purpose?' Grounded in student experiences, this book includes student voices, stories, and contemporary case studies. Written in an informed and approachable tone, it provides a coherent set of guiding principles about how knowing oneself, meaningfully engaging with others, and adopting a systems perspective can promote the socially responsible leadership so needed in the world today." —Julie E. Owen, assistant professor, Leadership and Integrative Studies, George Mason University
Preface.
About the Authors and Editors.
PART 1: SOCIAL CHANGE AND THE SOCIAL CHANGE MODEL OF LEADERSHIP DEVELOPMENT.
1. What Is Social Change (Wendy Wagner)?
2. An Overview of the Social Change Model of Leadership Development (Kristan Cilente).
3. Applying the Social Change Model: A Case Study Approach José-Luis Riera).
4. Change (Nurredina Workman).
PART 2: SOCIETAL/COMMUNITY VALUES.
5. Citizenship (Jennifer Bonnet).
PART 3: GROUP VALUES.
6. Collaboration (Jordan England).
7. Common Purpose (Alex Teh).
8. Controversy with Civility (Cecilio Alvarez).
PART 4: INDIVIDUAL VALUES.
9. Consciousness of Self (Justin Fincher).
10. Congruence (Tricia Shalka).
11. Commitment (Ashlee M. Kerkhoff and Daniel T. Ostick).
PART 5: CHANGE AGENTS.
12. Becoming a Change Agent (Marybeth J. Drechsler and William A. Jones).
Epilogue.
Susan R. Komives and Wendy Wagner.
Further Readings.
Index.
"Leadership for a Better World: Understanding the Social Change Model of Leadership Development represents an ambitious collaboration of higher education scholars and practitioners summarizing and applying the social change model of leadership." —Jaime Lester, Journal of College Student Development