Leadership in an Era of Change: New Directions for Community Colleges, Number 149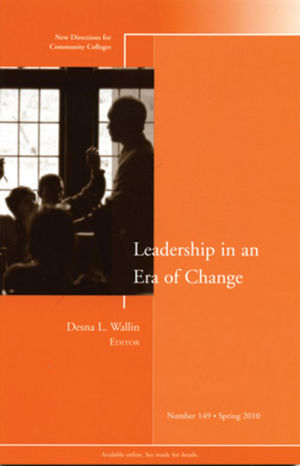 Leadership in an Era of Change: New Directions for Community Colleges, Number 149
ISBN: 978-0-470-63777-7
Apr 2010, Jossey-Bass
84 pages
Description
In unstable times, effective leaders must not only be able to cope with the environment, they must also be able to shape it. Leaders in today's community colleges must fit that mold. Change leadership can be said to embody four essential characteristics that might be called the four "A's." These are
Change leadership anticipates it is visionary and forward-looking and avoids reactionary thinking
Change leadership constantly analyzes both the internal and external enviroment to gather reliable data upon which to make decisions; it engages in strategic and tactical planning to make the most of the moment
Change leadership acts; with a vision and a plan, with accurate and current data, action is collaborative and inclusive
Change leadership affirms; it is not enough to have a vision, a plan, and action. Once action is implemented, attention is given to reflection, to review, and to sustaining change.
This volume focuses on change leadership at all levels. The authors bring unique perspectives--they are strong, recognized scholars in leadership studies as well as practitioners actively engaged in community college leadership. Both empirical studies and best practices are included to further our knowledge and understanding of effective leadership in the context of change.
This is the 149th volume of the Jossey-Bass higher education quarterly report series New Directions for Community Colleges. Essential to the professional libraries of presidents, vice presidents, deans, and other leaders in today's open-door institutions, New Directions for Community Colleges provides expert guidance in meeting the challenges of their distinctive and expanding educational mission.
EDITOR'S NOTES (
Desna L. Wallin
).
1. Looking to the Future: Change Leaders for Tomorrow's Community Colleges (Desna L. Wallin)
The old ways of managing, organizing, and leading fall short in today's rapidly changing environment; the current context calls for a different set of leadership skills from those that might have sufficed in less turbulent times.
2. Leading Partnerships: Competencies for Collaboration (Marilyn J. Amey)
Leading a partnership requires being an effective organizational analyst and systems thinker, knowing the strengths and challenges of one's organization, and how partnering will be of benefit.
3. Dynamic Leadership Development in Community College Administration: Theories, Applications, and Implications (Matthew J. Basham, Raghu P. Mathur)
In a rapidly changing environment, leaders must create dynamic teams that stretch traditional job descriptions and develop the skills and talents of both leaders and managers.
4. Minding the Gap: Filling a Void in Community College Leadership Development (Dale F. Campbell, Syraj Syed, Phillip A. Morris)
The University of Florida's leadership program actively incorporates leadership assessment and executive coaching to develop emotionally adept and self-aware learners/leaders.
5. Learning to Be Reflective Leaders: A Case Study from the NCCHC Hispanic Leadership Fellows Program (Leila González Sullivan, Colleen Aalsburg Wiessner)
The leadership program developed by the National Community College Hispanic Council emphasizes habits of reflective learning at the individual and institutional levels.
6. University-Based Community College Leadership Programs: Where Future Community College Leaders Are Prepared (Janice Nahra Friedel)
Among the goals of a new EdD program at California State University Northridge is preparation of competent and reflective leaders committed to moral and ethical actions and capable of serving as change agents in complex organizations.
7. Leading from the Middle: Preparing Leaders for New Roles (Larry Ebbers, Kitty S. Conover, Anisha Samuels)
Local "grow your own," statewide, and national leadership programs can provide opportunities for aspiring middle managers to plan for their own future.
8. Beyond the Headlines: Wounding and the Community College Presidency (Deborah L. Floyd, Pat Maslin-Ostrowski, Michael R. Hrabak)
The authors describe a framework for understanding the human side of leadership during a crisis experience and offer practical recommendations to better equip aspiring and practicing community college presidents.
9. Epilogue: Change Leadership and Leadership Development (Robert C. Cloud)
This concluding chapter places the volume in the context of the history of leadership and brings together the major issues and challenges of change leaders and leadership development.
INDEX.