Leadership is in the Eye of the Follower: A Download from Pfeiffer's Classic Activities for Developing Leaders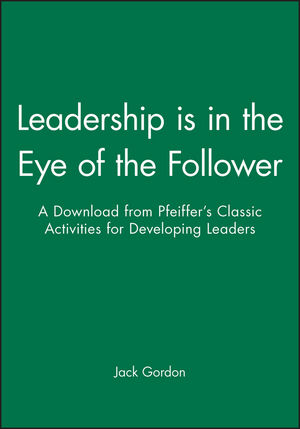 Leadership is in the Eye of the Follower: A Download from Pfeiffer's Classic Activities for Developing Leaders
ISBN: 978-0-787-97312-4
Apr 2004, Pfeiffer
Description
What you have heard about leadership is only half the story. Leadership is not just about leaders; it is also about followers. This article by best-selling authors Jim Kouzes and Barry Posner discuses how leadership is a reciprocal process. It occurs between people. It is not don by one person to another.



Important Information to Review Before Making This Download Purchase
Before purchasing a Pfeiffer Download, you will need Adobe® Acrobat® Reader® Software. If you do not already have it installed on your computer, you may download this free software from the Adobe Web site at Adobe.com.

All Pfeiffer Downloads that you purchase from this site will come with specific restrictions that allow Pfeiffer to protect the copyrights of its products. Just before completing your purchase, you will be prompted to accept our License Agreement. If you do not accept the parameters of this agreement, your credit card will not be charged and your order will be cancelled.