Leading Academic Change: Essential Roles for Department Chairs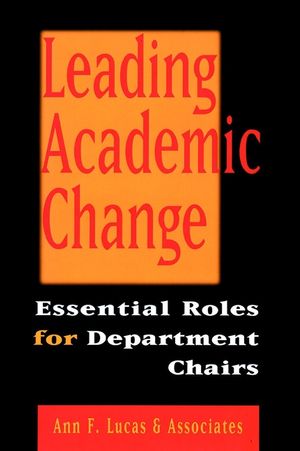 Leading Academic Change: Essential Roles for Department Chairs
ISBN: 978-0-787-94682-1
Mar 2000, Jossey-Bass
352 pages
Description
"To ensure its continued validity, higher education needs to change, something it cannot do without the participation of department chairs. In this book, Ann Lucas has assembled some of the most thoughtful people in higher education to provide the 'line leaders' of higher education with the essential knowledge they need to bring those changes about."

--Margaret A. Miller, president, American Association for Higher Education

"Department chairs are typically amateurs, entering upon their position for a limited time with no formal training to prepare them for the many roles and responsibilities that the job requires. Both new chairs and more experienced ones will find in Leading Academic Change help in dealing with problems they are facing as well as inspiration and insights to go beyond minimum expectations and provide leadership for the future."

--W.J. McKeachie, professor of psychology, University of Michigan

"With practical advice and a platform of sound social science, Lucas offers a promising paradigm for chairs to move their departments from a federation of islands to a decision-making team."

--Carla B. Howery, deputy executive officer, American Sociological Association

For the 80,000 department chairs working on campuses across the nation, this visionary yet practical book shows how to manage academic change at the department level. It provides useful ideas and strategies on handling resistance to change, transforming departments into productive learning communities, and improving educational quality for students. In twelve incisive chapters, top academic scholars, authors, and consultants address topics and trAnds as diverse as service learning, technological change, curriculum renewal, faculty reward systems, and post-tenure review. They offer effective models to help department chairs and administrators work through the change process, including recommAndations based on real-world experiences. They also integrate the latest research with examples of best practices into a readable, accessible format. Whether you are a department chair, administrator, or a faculty member aspiring to improve your department, Leading Academic Change is the expert's guide to mobilizing faculty energy towards academic success.
Buy Both and Save 25%!
Original Price:$116.00
Purchased together:$87.00
save $29.00
Cannot be combined with any other offers.
LEADING CHANGE.

A Teamwork Approach to Change in the Academic Department (A. Lucas).

A Collaborative Model for Leading Academic Change (A. Lucas).

Handling Resistance to Change (S. Cheldelin).

Transforming Departments into Productive Learning Communities (T. Angelo).

THE COLLABORATIVE ROLE OF THE CHAIR IN DEPARTMENTAL CHANGE.

The Departmental Statement on Promotion and Tenure: A Key to Successful Leadership (R. Diamond).

Post-Tenure Review (C. Licata).

Strengthening the Departmental Voice in the Faculty Reward System (H. Altman).

LEADING INNOVATIVE CHANGE IN CURRICULUM AND TEACHING.

Monitoring and Improving Educational Quality in the Academic Department (L. Gardiner).

Service Learning and the Engaged Department: A Strategy with Many Uses (E. Zlotkowski).

Giving Faculty Ownership of Technological Change in the Department (A. Bates).

Leading Curriculum Renewal (A. Ferren & K. Mussell).

The Academy as Learning Community: Contradiction in Terms or Realizable Future? (P. Senge).
"To ensure its continued validity, higher education needs to change, something it cannot do without the participation of department chairs. In this book, Ann Lucas has assembled some of the most thoughtful people in higher education to provide the 'line leaders' of higher education with the essential knowledge they need to bring those changes about." (Margaret A. Miller, president, American Association for Higher Education)

"Department chairs are typically amateurs, entering upon their position for a limited time with no formal training to prepare them for the many roles and responsibilities that the job requires. Both new chairs and more experienced ones will find in Leading Academic Change help in dealing with problems they are facing as well as inspiration and insights to go beyond minimum expectations and provide leadership for the future." (W.J. McKeachie, professor of psychology, University of Michigan)

"Ann Lucas inspires chairs beyond the jokes about 'herding cats' to see their central role at the intersection of the institution and their discipline. With practical advice and a platform of sound social science, Lucas offers a promising paradigm for chairs to move their departments from a federation of islands to a decision-making team." (Carla B. Howery, deputy executive officer, American Sociological Association)

"This book is unusually good. Clear, comprehensive, and immediately useful, it should be read by every department chair." (Peter Seldin, Lubin School of Business, Pace University)