Leading Corporate Transformation: A Blueprint for Business Renewal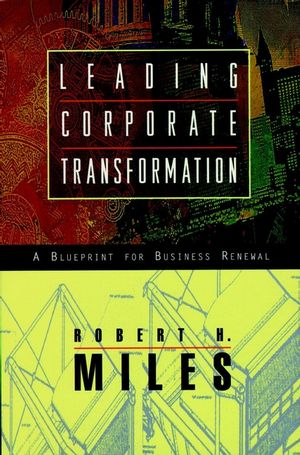 Leading Corporate Transformation: A Blueprint for Business Renewal
ISBN: 978-0-787-90327-5 June 1997 Jossey-Bass 272 Pages
Description
The definitive guide to successful corporate transformation

?The framework Bob Miles illustrates in his new book has been the key tool Symantec has used to start the shift from being a technology-driven to a customer-driven company. Business leaders facing a variety of corporate transformation challenges will benefit from this important executive briefing.? -- Gordon E. Eubanks, Jr., chief executive officer, Symantec Corporation

The distillation of a stellar twenty-year career, Leading Corporate Transformation is consultant Robert Miles's reply to executives who want to be able to rise to the most pervasive challenge facing them today: how to achieve fundamental transformation without exposing the organization to unacceptable risk. Here, in the form of an executive briefing, are the expert guidance and tools you need to meet a variety of corporate transformation challenges, whether you are trying to reposition a successful company, revitalize a failing one, merge different businesses and cultures, or manage a leadership succession process. These insights are relevant not only for senior executives, but also for managers at all levels of an organization undergoing fundamental transformation. If you are a leader who must effect organizational change, you will want to keep this book close at hand.
Corporate Transformation: An Executive Briefing.

THE CORPORATE TRANSFORMATION FRAMEWORK.

Generating Energy for Transformation.

Developing a Vision for the future.

Aligning the Organization and Culture.

Orchestrating the Transformation.

PROFILES IN CORPORATE TRANSFORMATION.

Type I Transformation: Repositioning America's Most admired Utility.

Type II Transformation: Revitalizing a High Tech Legend.

Type III Transformation: Merging Businesses and Cultures.

Type IV Transformation: Managing Executive Leadership Succession.

Appendix: The Strategic Visioning Process.
?The framework Bob Miles illustrates in his new book has been the key tool Symantec has used to start the shift from being a technology-driven to a customer-driven company. Business leaders facing a variety of corporate transformation challenges will benefit from this important executive briefing.? (Gordon E. Eubanks, Jr., chief executive officer, Symantec Corporation)

?Miles is correct in concluding that only successful corporate leaders in today's competitive environment are transformational leaders. His general framework for leading corporate transformations has been distilled from two decades of close-in support of many of the corporate world's pathbreaking transformations. This book reveals how his approach may be adopted to a variety of corporate revitalization and repositioning challenges." (Robert W. Gundeck, chief executive officer, American Business Products)

?Bob Miles masterful weaves two decades of hands-on experience into his powerful and timely framework for leading corporate transformation. His approach was instrumental in helping our company launch the difficult transition from regulation-focused monopoly to market-leading competitor. Corporate leaders will profit from this executive briefing.? (David W. Dorman, chairman and chief executive officer, Pacific Bell)

?An extremely important and practical book. Essential reading for all leaders at all levels of an organization during corporate transformation.? (C. Douglas Miller, CEO, Norrell Corporation)

?In this book, one of the world's most experienced change agents identifies the skill set required of leaders at all levels in the enterprise to drive successful corporate transformation. The book should become required reading for all managers in a business undergoing fundamental change.? (Jerome Adams, chief learning officer, Shell Oil Company)

?Miles is a real pro. Leaders facing a wide variety of transformation challenges will find this blueprint quite useful.? -- Timothy W. Finchem, commissioner, PGA TOUR (Timothy W. Finchem, commissioner, PGA TOUR)