Leading Diverse Communities: A How-To Guide for Moving from Healing Into Action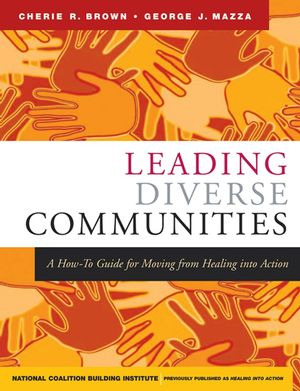 Leading Diverse Communities: A How-To Guide for Moving from Healing Into Action
ISBN: 978-0-787-97369-8
Oct 2004, Jossey-Bass
192 pages
Description
Based on the National Coalition Building Institute's popular leadership development program, Leading Diverse Communities gives community, campus, nonprofit, and business leaders the tools they need to embrace diversity and encourage their stakeholders to do the same. The book is filled with practical guidance on how to achieve results and provides a simple, skill-oriented guidebook for busy leaders. Leading Diverse Communities distills the National Coalition Building Institute's wisdom into thirty-two concise leadership principles. Each principle is illuminated with theory and a related example, activity, and worksheet that can help develop the skills required to put a particular principle into practice. 
Buy Both and Save 25%!
Original Price:$80.00
Purchased together:$60.00
save $20.00
Cannot be combined with any other offers.
Acknowledgments.
The Authors.
About NCBI.
Introduction.
CHAPTER ONE: Building Environments to Welcome Diversity.
PRINCIPLE ONE Guilt is the glue that holds prejudice in place.
PRINCIPLE TWO Welcoming diversity means every person counts and every issue counts.
PRINCIPLE THREE Treating everyone the same may be unintentionally oppressive.
PRINCIPLE FOUR Meetings go better when everyone is included.
PRINCIPLE FIVE Recognize and work with the diversity already present in what appear to be homogeneous groups.
PRINCIPLE SIX People can take on tough issues more readily when the issues are presented in a spirit of hope.
PRINCIPLE SEVEN Building a team around us is the most powerful way to bring about institutional change.
Principles in Action Durham, North Carolina.
CHAPTER TWO: Healing Ourselves to Change the World.
PRINCIPLE EIGHT We all carry records about other groups that prevent us from building effective alliances.
PRINCIPLE NINE Effective anti-racism leadership in the present means healing scars from the past.
PRINCIPLE TEN When we respond to a present situation with intense emotion, we are usually acting out of a past unhealed difficulty.
PRINCIPLE ELEVEN Underneath every oppressive comment lies some form of injury.
PRINCIPLE TWELVE People who feel good about themselves do not mistreat others.
PRINCIPLE THIRTEEN When witnessing oppressive behavior, having a chance to vent leads to clearer thinking about what is useful to do next.
PRINCIPLE FOURTEEN Diversity leadership requires reclaiming courage.
PRINCIPLE FIFTEEN Being an ally to another group requires us to heal the negative messages we have internalized about our own group.
PRINCIPLE SIXTEEN Healing discouragement leads to more effective activism.
Principles in Action Allentown, Pennsylvania.
CHAPTER THREE: Becoming Effective Allies.
PRINCIPLE SEVENTEEN Human beings want to be allies with one another. 80
PRINCIPLE EIGHTEEN One-on-one relationship building is at the heart of effective intergroup coalitions.
PRINCIPLE NINETEEN Risk taking and mistake making are essential for building close relationships across group lines.
PRINCIPLE TWENTY We can choose our attitude toward what we hear.
PRINCIPLE TWENTY-ONE We don't change people's minds; we change their hearts with personal stories of discrimination.
PRINCIPLE TWENTY-TWO Listening is not the same as agreeing.
PRINCIPLE TWENTY-THREE If you wish to move a conflict forward, there is no room for two hurts at the same time.
PRINCIPLE TWENTY-FOUR You can develop sound policies on controversial issues when you understand the heartfelt concerns on all sides.
PRINCIPLE TWENTY-FIVE Reach for the higher ground.
PRINCIPLE TWENTY-SIX Building relationships with people who belong to groups that have traditionally mistreated our people is a powerful way to break the cycle of mistrust.
Principles in Action Birmingham, Alabama.
CHAPTER FOUR: Empowering Leaders to Lead.
PRINCIPLE TWENTY-SEVEN Effective leadership requires individual initiative.
PRINCIPLE TWENTY-EIGHT Effective leadership for diversity requires having the integrity to take principled stands.
PRINCIPLE TWENTY-NINE Leaders deserve to be cherished and supported.
PRINCIPLE THIRTY Attacks on leaders are a form of oppressive behavior.
PRINCIPLE THIRTY-ONE Leaders change more readily through generosity from others than through criticism.
PRINCIPLE THIRTY-TWO A trusted leader admits and corrects mistakes.
Principles in Action Washington, District of Columbia.
Assessment Worksheet for Moving from Healing into Action.
Conclusion.
Resources.