Leading Geeks: How to Manage and Lead the People Who Deliver Technology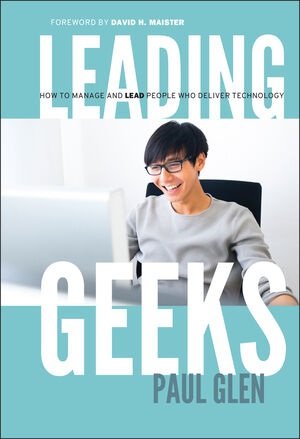 Leading Geeks: How to Manage and Lead the People Who Deliver Technology
ISBN: 978-0-787-96546-4
Feb 2003, Jossey-Bass
288 pages
Description
Winner of the 2003 Financial Times Germany/getAbstract Business & Finance Book Award

Leading Geeks challenges the conventional wisdom that leadership methods are universal and gives executives and managers the understanding they need to manage and lead the technologists on whom they have become so dependent. This much-needed book? written in nontechnical language by Paul Glen, a highly acclaimed management consultant? gives clear directions on how to effectively lead these brilliant yet notoriously resistant-to-being-managed knowledge workers. Glen not only provides proven management strategies but also background on why traditional approaches often don't work with geeks. Leading Geeks describes the beliefs and behavior of geeks, their group dynamics, and the unique nature of technical work. It also offers a unique twelve-part model that explains how knowledge workers deliver value to an organization.
Editor's Note, Warren Bennis.

Foreword, David H. Maister.

Introduction.

Acknowledgments.

Overview: The Challenge of Geeks.

1. Geeks, Leadership, and Geek Leadership.

Part One: The Context of Geek Leadership.

2. The Essential Geek.

3. Groups of Geeks.

4. The Nature of Geekwork.

5. Performing Geekwork.

Part Two: The Content of Geek Leadership.

6. Nurturing Motivation.

7. Providing Internal Facilitation.

8. Furnishing External Representation.

9. Managing Ambiguity.

10. Selecting and Organizing Geekwork.

11. Uniting Geeks and Geekwork.

Conclusion: Harmonizing Context and Content.

12. How Geek Leaders Lead.

Appendix: Models and Lists.

Notes.

References.

The Author.

Index.
Technology has so clearly woven itself into the fabric of business culture that publishing Glen's book on how to manage the people who produce high tech makes perfect sense. The author, founder of a consulting firm specializing in IT organizations, assumes that ""geeks"" are not everyday people, and draws on his experience to present clear and simple techniques for employers to not just get what they need out of tech workers but to become the kind of managers who will mesh well with this new kind of employee. Glen's insight is to treat high technology as a creative product produced by temperamental people who are a cross between artists and professionals. This view stems from the ambiguity of ""geekwork"" and the fact that geeks usually know more about what they do than do their managers. Though Glen doesn't advocate turning the factories over to the workers, his aim is to make managers more effective by teaching them about the people they lead, not by giving them tools to bend employees to their will. He does an excellent job of enumerating geek characteristics and the context in which geekwork takes place, providing ample material on what works with geeks and what doesn't, such as ""intrinsic"" or ""extrinsic"" motivators, and valuable advice, like ""never underestimate the power of free food."" Though it doesn't contain much new material, Glen's easily readable book will prove exceptionally useful for managers who feel left behind by the pace of technology or bosses seeking to better understand their information age employees. (Nov.) (
Publishers Weekly
, October 21, 2002)
""Winner of the 2003 Financial Times Germany and getAbstract Award for best book on business leadership""