Leading Organizations from the Inside Out: Unleashing the Collaborative Genius of Action-Learning Teams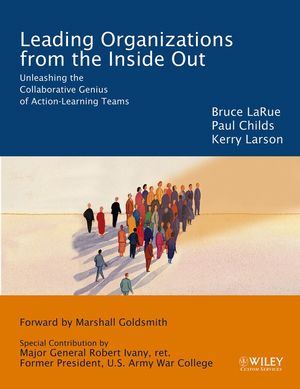 Leading Organizations from the Inside Out: Unleashing the Collaborative Genius of Action-Learning Teams
ISBN: 978-0-471-78286-5 August 2005 194 Pages
Description
This innovative book is designed to drastically shorten the time needed to effectively implement change initiatives by helping readers understand both the behavioral and operational aspects of organizational change. The authors demonstrate how, through Action-Learning Teams, organizations can accomplish tangible business objectives while creating superior workforce development. They show leaders how to overcome resistance to change by involving critical stakeholders, including customers, suppliers, and cross-functional teams, in the design and deployment of change initiatives, resulting in drastically shortened time horizons for the successful implementation of change.
Acknowledgements.
Foreword by Marshall Goldsmith.
PART I. WHY ACTION-LEARNING TEAMS?
Chapter 1. Introduction.
Chapter 2. What are Action-Learning Teams and How Can They Benefit Your Organization?
Chapter 3. The New Strategic Imperative: Speed, Adaptability and Flexibility.
Chapter 4. The Action Context as Learning Environment.
Chapter 5. Action-Learning Teams and the Transformation of the U.S. Army.
Chapter 6. Leading Action-Learning Teams: From Command and Control to Distributed Intelligence.
Chapter 7. Action-Learning Teams as a Means of Knowledge Worker Development.
PART II. ACTION-LEARNING TEAMS AND THE DESIGN AND DEPLOYMENT OF STRATEGIC CHANGE.
Chapter 8. Getting Started with Action-Learning.
Chapter 9. Inquiry: Discovering the Gaps that Impede Effectiveness.
Chapter 10. Design: Innovating the Road Map Forward.
Chapter 11. Deployment: Transformation in Action.
Chapter 12. Integration: Aligning Core Systems and Processes to Achieve Sustained Results.
PART III. SUPPLEMENTAL MATERIALS.
Chapter 13. The executive Master Class: Cyberspace and the New Frontiers of Executive Education.
Chapter 14. Integrating Corporate and Higher Education Learning Practices in an Action-Learning Context.
References.