Leading for Growth: How Umpqua Bank Got Cool and Created a Culture of Greatness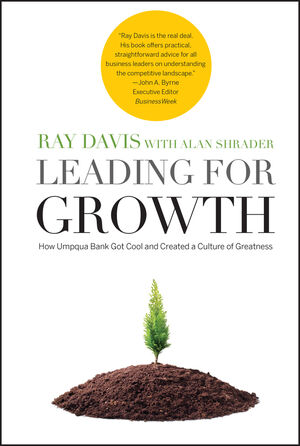 Leading for Growth: How Umpqua Bank Got Cool and Created a Culture of Greatness
ISBN: 978-1-118-04723-1 January 2011 Jossey-Bass 240 Pages
Description
How any business leader can create an atmosphere of competitiveness for exceptional growth

When Ray Davis took over the local 40-person South Umpqua Bank in 1994, many people in the industry poked fun at his insistence that employees answer the phone with a cheery "World's Greatest Bank." Eleven years, $7 billion in assets, and 128 branches (or " bank stores" in Umpqua lingo) later, the moniker seems quite apt. Other banks scratched their heads when Davis sent his tellers to Ritz-Carlton to learn customer service and were intrigued when he hired a cutting-edge design firm to completely re-think retail layout. Now, with a top design award under their belt, a name change (there never was a North Umpqua bank), and a completely new definition of the banking business, Umpqua has become the darling of the entrepreneurial press and a growth powerhouse. The New York Times calls Umpqua "Starbucks with tellers."

Ray Davis (Portland, OR), named by U.S. Banker as one of the 25 most influential people in the financial industry in 2005, is President and CEO of Umpqua Holdings Corporation. Alan Shrader (Moraga, CA) is an experienced writer and editor of business books.
Introduction: There Is No Door Number Three.
PART ONE: PREREQUISITES FOR RELENTLESS GROWTH.
1. What Business Are You Really In?
2. Never-Ending Discipline.
3. Have Positive Passion.
4. Snap the Rubber Band Syndrome.
5. What's Going On Behind Your Back?
PART TWO: ROLES OF A LEADER.
6. Support Your People—and Hold 'Em Accountable.
7. Give Them the Power.
8. Rise Above the Battlefield.
9. Explain Your Movie.
10. Be Real.
PART THREE: MASTER THE BASICS.
11. Sweat the Small Stuff.
12. Who Do You Want on Your Bus?
13. Keep Your Board Strong—and Informed.
14. Intangibles Matter Most.
PART FOUR: MARKETING, MARKETING, MARKETING.
15. Find the Revolution Before It Finds You.
16. Your Brand Is You.
17. Serve the Customer.
18. Put Design into Everything You Do.
PART FIVE: LEADING YOUR CULTURE.
19. Be There.
20. Keep Your Balance.
21. Remember Who You Are.
22. Mergers and Acquisitions Done Right.
Conclusion: Making Relentless Progress.
Acknowledgments.
The Authors.
Index.