Lean Accounting: Best Practices for Sustainable Integration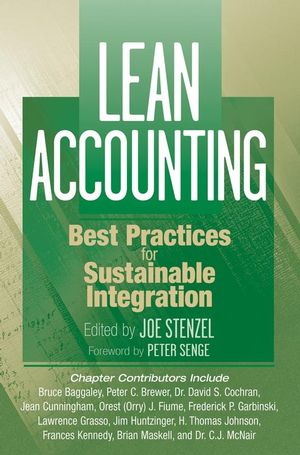 Lean Accounting: Best Practices for Sustainable Integration
ISBN: 978-0-470-17375-6
May 2008
256 pages
Description
Praise for Lean Accounting Best Practices for Sustainable Integration
""Anyone involved in a lean transformation inevitably bumps up against the vagaries of the accounting systems that reward overproduction and waste and seem to punish true improvement. We wonder what would happen if the accountants actually came to the production floor and witnessed firsthand the havoc created by their systems. This volume gathers together some of the best thinkers to take a critical look at traditional cost accounting and defines a path forward to 'lean accounting.'""
—Jeff Liker, Professor of Industrial and Operations Engineering, University of Michigan
""Joe Stenzel has put together a timely compendium of writings from thought leaders in lean accounting. The viewpoints in this fine book are diverse and yet proclaim a consistent message: that conventional management accounting is broken--and here is how to fix it.""
—Richard J. Schonberger, President, Schonberger & Associates
""If you are serious about understanding and implementing Lean Accounting in conjunction with your Lean Enterprise journey, this book will illuminate the specific techniques, but more importantly, will explain the cultural changes that are a prerequisite for success.""
—Jerry Solomon, Vice President of Operations, Hunt Valley, for MarquipWardUnited, a division of Barry-Wehmiller Companies, Inc.
Insights and strategies from the most experienced lean accounting and performance measurement?practitioners in America
Learn how to integrate the proven lean methodologies embedded in the Toyota Production System with Lean Accounting: Best Practices for Sustainable Integration. In this comprehensive guide, leading accounting and performance measurement practitioners analyze the current business climate and provide CFOs and accounting/finance personnel with step-by-step guidelines to seamlessly and successfully integrate sustainable, lean accounting principles within their enterprise.
Be a lean success story with Lean Accounting.
Foreword.
Introduction.
About the Contributing Authors.
Part I Lean Essentials.
1 LEAN DILEMMA: CHOOSE SYSTEM PRINCIPLES OR MANAGEMENT ACCOUNTING CONTROLS—NOT BOTH (H. Thomas Johnson).
1.1 LEAN CURE: SYMPTOM VERSUS ROOT CAUSE.
1.2 BUSINESS RESULTS: MECHANISM VERSUS LIFE SYSTEM.
1.3 CONFUSION OF LEVELS: LEAN PRACTICES VERSUS TOYOTA RESULTS.
1.4 MANAGEMENT ACCOUNTING CONTROL SYSTEMS BLOCK LEAN.
1.5 LEAN ACCOUNTING ANSWERS THE WRONG QUESTION.
1.6 ANSWERS TO THE RIGHT QUESTION—FROM SHEWHART AND DEMING TO TOYOTA.
1.7 MANAGEMENT ACCOUNTING CONTROLS OR SYSTEM PRINCIPLES: PICK ONE, NOT BOTH.
1.8 EPILOGUE: LEAN AND THE QUESTION OF SUSTAINABILITY.
2 LIMITED PRODUCTION PRINCIPLES: RIGHT-SIZING FOR EFFECTIVE LEAN OPERATIONS AND COST MANAGEMENT (Jim Huntzinger).
2.1 LIMITED PRODUCTION VERSUS ECONOMIES OF SCALE.
2.2 LEAN AND RIGHT-SIZING.
2.3 RIGHT-DESIGNING FOR FLOW.
2.4 ONE-PIECE FLOW.
2.5 BEGINNING THE JOURNEY: EXECUTING RIGHT-DESIGN.
2.6 RIGHT-DESIGNING COST MANAGEMENT.
2.7 ALL PARTS AT EQUAL COST.
2.8 THE JOURNEY TO THE PROMISED LAND—PERFECTION.
2.9 WHAT THE CFO NEEDS TO UNDERSTAND AND COMMUNICATE DURING A LEAN TRANSFORMATION.
3 LEAN STRATEGY AND ACCOUNTING: THE ROLES OF THE CEO AND CFO (Orest Fiume).
3.1 LEAN STRATEGY RESULTS.
3.2 EASY TO AGREE WITH, HARD TO DO.
3.3 WHAT DOES IT TAKE TO IMPLEMENT A LEAN STRATEGY?
3.4 THE ROLE OF THE CEO.
3.5 LEAN AFFECTS ACCOUNTING.
3.6 THE ROLE OF THE CFO.
Part II Performance Management.
4 CREATING A NEW FRAMEWORK FOR PERFORMANCE MEASUREMENT OF LEAN SYSTEMS (Bruce Baggaley).
4.1 THE PROBLEMS WITH TRADITIONAL PERFORMANCE MEASURES.
4.2 SOLUTION TO THE PROBLEMS.
4.3 A STARTER SET OF LEAN PERFORMANCE MEASUREMENTS
4.4 SUGGESTIONS FOR IMPLEMENTATION.
5 MOTIVATING EMPLOYEE PERFORMANCE IN LEAN ENVIRONMENTS: RESPECT, EMPOWER, SUPPORT (Frances Kennedy and Peter Brewer).
5.1 ENTERPRISE EXCELLENCE AND PEOPLE.
5.2 INNOVATION AND PEOPLE.
5.3 THE POWER OF RESPECT.
5.4 TWO VIEWS OF PERFORMANCE MOTIVATION.
5.5 EMPOWERMENT AND PERCEPTIONS.
5.6 MANAGEMENT CONTROL SYSTEMS AND LEAN REGULATORY SYSTEMS.
5.7 SUPPORTING LEAN PERFORMANCE MEASUREMENT.
5.8 ACCOUNTING, LEAN PERFORMANCE, AND THE EMPOWERED WORKFORCE.
5.9 SUPPORTING THE TRANSFORMATION TO LEAN.
Part III Lean Accountancy.
6 ON TARGET: CUSTOMER-DRIVEN LEAN MANAGEMENT (Dr. C. J. McNair, CMA).
6.1 THE ECONOMICS OF THE CUSTOMER.
6.2 COST: A CUSTOMER'S PERSPECTIVE.
6.3 CUSTOMER-DRIVEN LEAN MANAGEMENT: AN EXAMPLE.
6.4 VALUE SEGMENTATION.
6.5 USING CUSTOMER PREFERENCES IN SEGMENTATION.
6.6 PUTTING THE CUSTOMER PERSPECTIVE INTO ACTION.
6.7 BUILDING THE CUSTOMER IN: A SERVICE PERSPECTIVE.
6.8 CLM: THE PATH FORWARD.
7 VALUE STREAM COSTING: THE LEAN SOLUTION TO STANDARD COSTING COMPLEXITY AND WASTE (Brian Maskell and Nicholas Katko).
7.1 THE PROBLEM WITH STANDARD COSTING.
7.2 STANDARD COSTING IS ACTIVELY HARMFUL TO LEAN.
7.3 VALUE STREAM COSTING.
7.4 THE ADVANTAGES OF VALUE STREAM COSTING.
7.5 CLOSING THE BOOKS.
7.6 USING COST INFORMATION TO MANAGE THE VALUE STREAM.
7.7 BUSINESS DECISION MAKING USING VALUE STREAM COSTING.
7.8 VALUING INVENTORY.
7.9 CHAPTER SUMMARY.
8 OBSTACLES TO LEAN ACCOUNTANCY (Lawrence Grasso).
8.1 UNDERSTANDING LEAN AS A MANAGEMENT SYSTEM.
8.2 CULTURAL COMPATIBILITY WITH LEAN MANAGEMENT.
8.3 OBSTACLES TO ACCOUNTANTS CHANGING TO LEAN ACCOUNTING.
8.4 MAJOR DEVELOPMENTS IN MANAGEMENT ACCOUNTING.
8.5 OVERCOMING THE OBSTACLES.
9 LEAN APPLICATION IN ACCOUNTING ENVIRONMENTS (Jean Cunningham).
9.1 GOAL AND FOCUS AREAS.
9.2 KAIZEN EVENTS IN BRIEF.
9.3 HOW TO GET STARTED AND NEVER END.
9.4 WHAT TO EXPECT.
10 SARBANES AND LEAN—ODD COMPANIONS (Fred Garbinski).
10.1 OVERVIEW OF SARBANES.
10.2 Q1: HOW WE GOT TO WHERE WE ARE.
10.3 Q2: WHERE CAN WE GO FROM HERE?
10.4 Q3: ARE THERE COMMON DENOMINATORS BETWEEN SARBANES AND LEAN THAT CAN BE USED AS A SPRINGBOARD FOR THE FUTURE?
10.5 EXAMPLES OF INTEGRATING LEAN WITH SARBANES.
10.6 WHAT'S NEEDED TO INTEGRATE LEAN WITH SARBANES.
11 THE NEED FOR A SYSTEMS APPROACH TO ENHANCE AND SUSTAIN LEAN (David S. Cochran, PhD).
11.1 INTRODUCTION TO COLLECTIVE SYSTEM DESIGN.
11.2 ACCOUNTING FOR LEAN COMMUNICATIONS.
11.3 THE JOURNEY TO ACCOUNTING FOR LEAN.
11.4 OBSTACLES TO SUSTAINABLE LEAN.
11.5 THE ESSENTIALS OF SYSTEMS DESIGN WHEN ACCOUNTING FOR LEAN.
Glossary.
Index.