Lean Six Sigma For Dummies®, WHS Travel Edition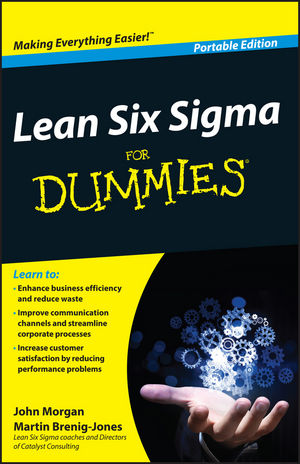 Lean Six Sigma For Dummies®, WHS Travel Edition
ISBN: 978-1-119-97443-7
Oct 2011
272 pages
Product not available for purchase
Description
Learn to:
Enhance business efficiency and reduce waste
Improve communication channels and streamline corporate processes
Increase customer satisfaction by reducing performance problems
Fine-tune your business processes and maximise the quality and efficiency of your organisation
If you want to make your organisation or team more productive, you have to change the way it thinks. Combining the leading improvement methods of Six Sigma and Lean, this winning technique drives performance to the next level. Lean Six Sigma For Dummies outlines the key concepts of this strategy in plain English and explains how you can use it to get the very best out of your business.
Get to grips with Lean Six Sigma basics – understand the key principles and discover how they work
Learn about crucial improvement techniques – find out what Lean Six Sigma can do for your organisation
Assess current performance – gather information and pinpoint factors affecting the speed and quality of your operating systems
Improve your business processes – use Lean Six Sigma to make your day-to-day activities run more smoothly
'This book should be compulsory reading for anyone wishing to improve the performance of their organisation […] the remarkable results will ensure that it's worth your while.'
—Joe Goasdoué, Chief Executive, British Quality Foundation
Open the book and find:
How to identify the needs of your customers or partners
Ways to track the processes you want to improve
Techniques to monitor performance indicators
How to analyse problems and present your findings
Methods to prevent waste and non-value-add steps
Ways to tackle workflow bottlenecks
How to maximise the efficiency of the people you work with
Introduction.
Part I: Lean Six Sigma Basics.
Chapter 1: Defining Lean Six Sigma.
Chapter 2: Understanding the Principles of Lean Six Sigma.
Part II: Working with Lean Six Sigma.
Chapter 3: Identifying Your Customers.
Chapter 4: Understanding Your Customers' Needs.
Chapter 5: Determining the Chain of Events.
Part III: Assessing Performance.
Chapter 6: Gathering Information.
Chapter 7: Presenting Your Data.
Chapter 8: Analysing What's Affecting Performance.
Part IV: Improving the Processes.
Chapter 9: Identifying Value-Added Steps and Waste.
Chapter 10: Discovering the Opportunity for Prevention.
Chapter 11: Identifying and Tackling Bottlenecks.
Chapter 12: Understanding the People Issues.
Part V: The Part of Tens.
Chapter 13: Ten Best Practices.
Chapter 14: Ten Pitfalls to Avoid.
Chapter 15: Ten Places to Go for Help.
Index.