Learn Bookkeeping in 7 Days: Don't Fear the Tax Man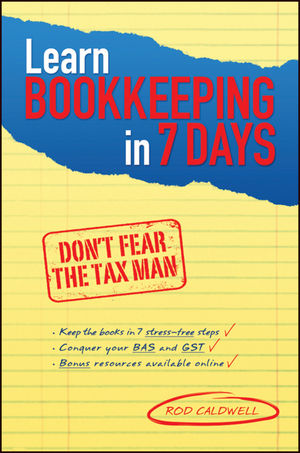 Learn Bookkeeping in 7 Days: Don't Fear the Tax Man
ISBN: 978-1-742-46941-6 July 2010 Wrightbooks 248 Pages
Description
Do you struggle with keeping your books?
Do you dread facing your finances?
Do you constantly fear that the tax man will come knocking?
Learn Bookkeeping in 7 Days is your step-by-step guide to taking the stress out of keeping your books!
This small business guide covers all of the basics, from setting up a general ledger through to confidently conquering your BAS, and all that's in between. In 7 quick and easy steps this book arms you with the knowledge you need to move to more advanced systems and will free up your time to focus on your business.
Packed full of taxation tips, tricks and traps, this is essential reading for all small business owners and anyone wanting to easily and quickly learn bookkeeping.
*Bonus resources can be downloaded from the author's website at www.tpabusiness.com.au.
Table of contents
About the author.
Preface.
Day 1: Introduction to bookkeeping and accounting.
Day 2: Analysing and recording transactions.
Day 3: Cash receipts and cash payments.
Day 4: End-of-month reconciliations — proving our transactions.
Day 5: The purchase and sale of inventory on credit terms.
Day 6: Completing your quarterly BAS.
Day 7: Some special rules for small business.
Appendix A: Useful resources.
Appendix B: Exercise solutions.
Appendix C: Glossary.
Index.