Learn More Now: 10 Simple Steps to Learning Better, Smarter, and Faster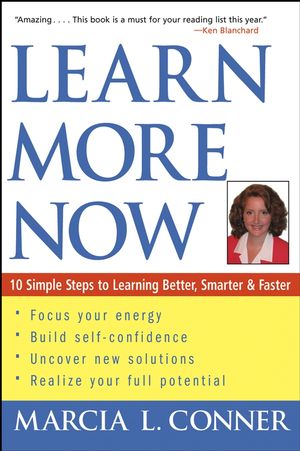 Learn More Now: 10 Simple Steps to Learning Better, Smarter, and Faster
ISBN: 978-0-471-51724-5
Apr 2004
256 pages
Product not available for purchase
Description
"Leaders at all levels will benefit from Marcia Conner's amazing book of strategies, exercises, and stories to maximize learning. This book is a must for your reading list this year."--Ken Blanchard, Chief Spiritual Officer, Ken Blanchard Companies

"A road map to reawakening the natural process of integrating learning into our daily lives."--Kathy O'Driscoll, Human Resources Director, Microsoft

"Finally a publication that genuinely respects learner diversity as much as it offers tangible ideas for dealing with it....Marcia L. Conner is a true learning champion."--Gunnar Bruckner, former Chief Learning Officer, United Nations Development Programme

We're all born with a vast capacity to explore and learn. Unfortunately, many of us never discover what we're truly capable of. What if you could reclaim your birthright and tap into your full potential for learning? Imagine how much you could accomplish--how much you could become. Here's your chance to find out. Through her innovative learning programs, Marcia Conner has helped thousands of people unleash the power of their intuition to rediscover the joy of learning and to expand their personal and professional productivity. In Learn More Now, she distills her renowned learning solutions into an easy-to-use ten-step program that will help you:
* Learn better, smarter, and faster
* Identify your learning style and your motivational style
* Synthesize your experiences, perspectives, thoughts, and actions
* Develop new pathways in your brain to increase your opportunities
* Absorb facts on the fly and overcome information overload
* Optimize your environment for concentrating and learning


Packed with fun, easy-to-do action steps and exercises, Learn More Now will help you discover how to be more focused and aware, work in step with your natural rhythms, be improvisational in your approach, and transform your life into a learning adventure.
Acknowledgments.
Introduction.
1. Find Your Motivation.
2. Learn Your Nature.
3. Engage Your Body.
4. Open New Pathways.
5. Attend and Observe.
6. Mind Your Gaps.
7. Get Together.
8. Jump In.
9. Pace Yourself.
10. Optimize Your Environment.
Bravo!
Recommended Resources.
Index.