Learning Cities for Adult Learners: New Directions for Adult and Continuing Education, Number 145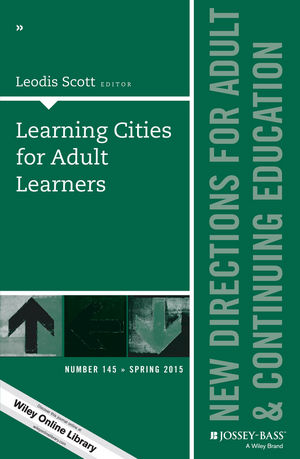 Learning Cities for Adult Learners: New Directions for Adult and Continuing Education, Number 145
ISBN: 978-1-119-07539-4 March 2015 Jossey-Bass 104 Pages
Download Product Flyer
Download Product Flyer
Download Product Flyer is to download PDF in new tab. This is a dummy description. Download Product Flyer is to download PDF in new tab. This is a dummy description. Download Product Flyer is to download PDF in new tab. This is a dummy description. Download Product Flyer is to download PDF in new tab. This is a dummy description.
Description
Learning cities call for a connection of adult education to elementary, secondary, and postsecondary institutions along with vocational and corporate workspaces.
This volume considers how "learning cities for adult learners" could be created in America that promote lifelong learning and education. Encouraging a widespread approach to educate and learn across disciplines, within communities, and inside the minds of all people, topics covered include:
• workplace and organizational learning,
• community engagement and service learning,
• public libraries and cooperative extension, and
• leisure, recreation, and public health education.

This is the 145th volume of the Jossey Bass series New Directions for Adult and Continuing Education. Noted for its depth of coverage, it explores issues of common interest to instructors, administrators, counselors, and policymakers in a broad range of education settings, such as colleges and universities, extension programs, businesses, libraries, and museums.
Table of contents
EDITOR'S NOTES 1
Leodis Scott
1. Evolution and Reconstruction of Learning Cities for Sustainable Actions 5
Connie Watson, Aimee Tiu Wu
A discussion of learning cities requires social sustainable change that traces its roots back to the idea of a "learning society," which featured a lifelong education movement long before the common expression of lifelong learning.
2. Learning Cities, Systems Change, and Community Engagement Scholarship 21
Hiram E. Fitzgerald, Renee Zientek
Community engagement scholarship describes the mutual relationship in higher education for civic, community, and public engagement that create systems for service learning in the context of a learning city/region.
3. Workplace, Organizational, and Societal: Three Domains of Learning for 21st-Century Cities 35
Lyle Yorks, Jody Barto
Interconnections between workplace and organizational learning inform how learning cities and regions must function to promote learning for a larger society.
4. Public Libraries and Cooperative Extension as Community Partners for Lifelong Learning and Learning Cities 45
Alysia Peich, Cynthia Needles Fletcher
Public libraries, land-grant institutions, and Cooperative Extension are just a few existing examples in America concerned with adult education serving the larger adult learner community.
5. A Connected History of Health and Education: Learning Together Toward a Better City 57
Joanne Howard, Diane Howard, Ebbin Dotson
Health and education must be included in any strategic planning of learning cities; such implications must consider how to improve the social quality of life for children and adults.
6. Role of Leisure in Humanizing Learning Cities 73
Dan K. Hibbler, Leodis Scott
Leisure shares a special connection with adult education from ancient times to significant events in history such as the Industrial Revolution; these connections play a part in the need for leisure education that is essential for social and human development.
7. Learning Cities for All: Directions to a New Adult Education and Learning Movement 83
Leodis Scott
Through encouraging leadership from the adult and continuing education field, the idea of learning cities can be realized and implemented within existing communities across America.
INDEX 95