Learning Communities from Start to Finish: New Directions for Student Services, Number 149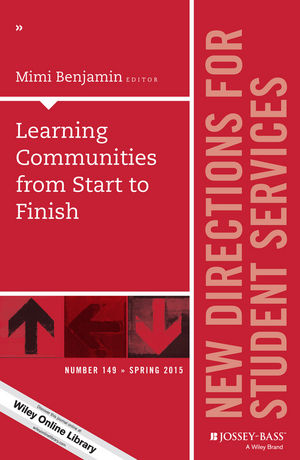 Learning Communities from Start to Finish: New Directions for Student Services, Number 149
ISBN: 978-1-119-06513-5 March 2015 Jossey-Bass 112 Pages
Download Product Flyer
Download Product Flyer
Download Product Flyer is to download PDF in new tab. This is a dummy description. Download Product Flyer is to download PDF in new tab. This is a dummy description. Download Product Flyer is to download PDF in new tab. This is a dummy description. Download Product Flyer is to download PDF in new tab. This is a dummy description.
Description
While the phrase "learning communities" has various definitions, at the heart of all programs is the goal of enhancing the student learning experience in the community of others.
This volume provides valuable information about learning communities--from start to finish--including:
• historical and theoretical foundations that guide these programs,
• structures of learning communities that provide varied opportunities for student participation, with a focus on specific student populations who may benefit from learning community experiences, and
• elements of staffing and assessment, as well as an annotated bibliography of recent learning community literature.
The authors consider critical elements of learning community programs and offer recommendations and options for faculty and staff who work with, or hope to work with, this particular curricular and cocurricular learning structure.

This the 149th volume of this Jossey-Bass higher education quarterly series. An indispensable resource for vice presidents of student affairs, deans of students, student counselors, and other student services professionals, New Directions for Student Services offers guidelines and programs for aiding students in their total development: emotional, social, physical, and intellectual.
Table of contents
EDITOR'S NOTES 1
Mimi Benjamin
1. A History of Learning Communities Within American Higher Education 5
John E. Fink, Karen Kurotsuchi Inkelas
A historical perspective of learning communities in the United States is presented in this chapter.
2. Theoretical Foundations of Learning Communities 17
Jody E. Jessup-Anger
This chapter provides a theoretical overview and explains how theory informs different learning community structures.
3. With Educational Benefits for All: Campus Inclusion Through Learning Communities Designed for Underserved Student Populations 29
John E. Fink, Mary L. Hummel
"Core practices of inclusive learning communities" are recommended in this chapter on learning communities for underserved students.
4. Aligning Needs, Expectations, and Learning Outcomes to Sustain Self-Efficacy Through Transfer Learning Community Programs 41
Jennifer R. Leptien
The voices of those who coordinate transfer student learning communities are shared in this chapter, which provides recommendations for programs serving transfer student populations.
5. Utilizing Online Learning Communities in Student Affairs 55
Daniel W. Calhoun, Lucy Santos Green
Utilizing technology to structure learning communities and achieve critical goals is the focus of this chapter.
6. Utilizing Peer Mentor Roles in Learning Communities 67
Laura Jo Rieske, Mimi Benjamin
This chapter highlights peer mentor roles and offers recommendations for incorporating the peer role into learning communities.
7. Assessing the "Learning" in Learning Communities 79
Ann M. Gansemer-Topf, Kari Tietjen
The assessment process incorporated into a STEM learning community at Iowa State University is presented in this chapter.
8. Learning Community Literature: Annotated Bibliography 91
Sarah Conte
A bibliography of learning community literature is provided in this chapter.
INDEX 101