Learning For Action: A Short Definitive Account of Soft Systems Methodology, and its use for Practitioners, Teachers and Students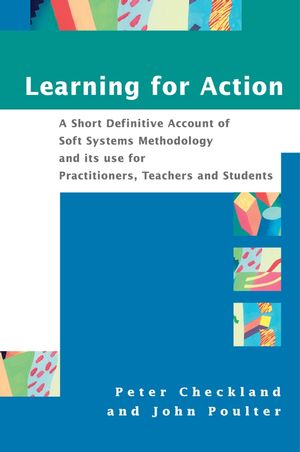 Learning For Action: A Short Definitive Account of Soft Systems Methodology, and its use for Practitioners, Teachers and Students
ISBN: 978-0-470-02554-3
Apr 2007
226 pages
Description
After an explanation of the book's purpose, the authors provide in Part 1 first an overview of SSM as a whole, then a fleshed-out account with just enough detail and advice to enable the reader to set about using the approach in problem situations of concern. Part 2 describes examples of SSM in action and also pays special attention to one of the most common application areas: that of work in the information system/information technology field. A final chapter in part 2 discusses the difficulties some people have in grasping the true nature of SSM, drawing attention to the inadequacies in much of the secondary literature. Appendices provide an outline of the theoretical considerations which underpin SSM, a guide to sources of further information and illustrations of some of SSM's techniques.
Preamble A TEN-MINUTE ACCOUNT OF SOFT SYSTEMS METHODOLOGY FOR VERY BUSY PEOPLE.
Preface.
INTRODUCTION.
PART 1 THE NATURE OF SSM.
Chapter 1 A SKELETON ACCOUNT OF SSM AS A WHOLE.
What is SSM?
What is the SSM Process?
What can SSM be used for?
Is SSM mature?
How was SSM developed?
How does SSM differ from other systems approaches?
Chapter 2 A FLESHED-OUT ACCOUNT OF SSM.
Introduction.
The SSM Learning Cycle: Finding Out.
The SSM Learning Cycle: Making Purposeful Activity Models.
The SSM Learning Cycle: Using Models to Structure Discussion about.
The Situation and its Improvement.
The SSM Learning Cycle: Defining 'Action to Improve'.
The Whole SSM Learning Cycle Revisited: seven principles, four actions.
PART 2 SSM IN ACTION.
Chapter 3 SSM IN ACTION IN MANAGEMENT SITUATIONS.
Introduction.
Case 1: Rethinking the Role of a Head Office Function in Shell.
Case 2: Evaluating Past Events.
Case 3: Upgrading the Skills of a Department.
Case 4: Tackling your own Issues.
Case 5: Clarifying a Concept.
Chapter 4 SSM IN ACTION IN THE FIELD OF INFORMATION SYSTEMS.
Introduction.
Case 1: Creating an Information Strategy in an Acute Hospital.
Case 2: Evaluating a Clinical Information System.
Case 3: Evaluating a National Initiative in the NHS.
Case 4: Providing Information Support for Scientists and Technologists.
Conclusion.
Chapter 5 SSM: MISUNDERSTANDINGS AND CRAFT SKILLS.
Introduction.
Misunderstanding SSM.
Craft Skills in SSM Use.
Tips on Techniques in SSM.
PART 3 SUMMING UP.
Chapter 6 SSM AS A WHOLE – some reminders.
Approaching SSM: the mindset.
SSM: an aide memoire.
Appendix One: SSM's Theory.
Appendix Two: The Story of SSM's Development.
Appendix Three: A Talked-through Example of Activity Model Building.
Appendix Four: A Generic Model of Purposeful Activity Modelling.
Appendix Five: Some Frequently Asked Questions.
Omits the development detail and historical/intellectual material yet contains the practical essentials which will allow teachers to teach accurately and students to learn with real understanding.
A new, accessible book on SSM written by the leading academic in the area.